Databases by Subject/Topic: Engineering
Icons:
Available to current TCU students, faculty, and staff.
Available to TCU faculty, staff, and grad students only.
Available to Brite students, faculty, and staff only.
Available to Clark Society members.
Available to all patrons.
Best Bets for Engineering
IEEE Xplore provides access to over three million full-text documents in electrical engineering, computer science, and electronics. Includes journals, conference proceedings, technical standards, eBooks, and educational courses.

Limited to 15 users at once.

Coverage dates:

1998 - Current.

Web of Science searches thousands of journals in the sciences, social sciences, and arts and humanities. A unique feature of Web of Science is the ability to see which articles have cited a given article. Web of Science offers the ability to search many databases simultaneously, including Science Citation Index, Social Sciences Citation Index, Arts & Humanities Citation Index, and several others. Coverage dates:

1945 - Current.

OnePetro searches a broad range of technical literature related to the oil and gas exploration and production industry. OnePetro includes full text access to publications of several major professional organizations in the industry. Coverage dates:

1933 - Current.
Scholarly Communication Librarian and Science Research Liaison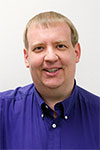 j.bond@tcu.edu
817.257.7107
office: 2105
More databases for Engineering
Provides online access to all AAPG (American Association of Petroleum Geologists) publications, as well as access to the publications of many local geological societies. Coverage dates:

1917 - Current.

A massive multidisciplinary resource with an abundance of full text. Abstracts and indexes 10,000+ journals and includes the full text of 6,500+ journals. 9000+ of the journals are peer-reviewed. Coverage dates:

Varies.

Based on the McGraw Hill Encyclopedia of Science and Technology. It includes articles, definitions, images, biographies, and some multimedia. Coverage dates:

Current.

Provides online access to all ACM (Association for Computing Machinery) journals, transactions, magazines, and other publications. After performing a search, click on "ACM Guide to Computing Literature" to expand your search to include material from other computer science publishers. Coverage dates:

1952 - Current.

Includes over two dozen mechanical engineering journals published by the American Society of Mechanical Engineers. Coverage dates:

2000 to present.

Search for conference presentations of leading edge research in the sciences and social science. Cross-disciplinary and focused on the most significant and credible professional and scholarly conferences. Sometimes referred to as grey literature. Coverage dates:

1990-present.

Derwent Innovations Index searches millions of patents from all of the major patent authorities worldwide. Coverage dates:

1963 - Current.

Enables modern engineers and scholars to learn what not to do and how to create designs with a greater chance of success through analysis of engineering failures.
This resource provides contextual information on hundreds of today's most significant science topics. By integrating authoritative, curriculum-aligned reference content with headlines and videos, it draws students into the subject matter, showing how scientific disciplines relate to real-world issues, from weather patterns to obesity. Coverage dates:

Current.

IOPscience Extra contains the full text of all journals published by the Institute of Physics and the American Astronomical Society, and several other physics and astronomy publishers. Coverage dates:

1874 - Current.

OSA Publishing contains the full text of journals and conference proceedings published by the Optical Society of America (OSA). Coverage dates:

1917 - Current.

Search all Proquest databases: historical newspapers, other primary sources, dissertations, current periodicals, etc. from a single page. Documents can be limited to desired source(s) from the results list. Coverage dates:

15th century - present.

Safari Books Online's on-demand digital library provides access to over 40,000 technology books and videos from leading publishers. Coverage dates:

1972-Current.

Science & Technology Collection searches hundreds of journals in the science and technology fields, and includes full text for many journals. Subjects include astrophysics, biology, chemistry, computer technology, geology, physics, archaeology and materials science. Coverage dates:

1900 - Current.

ScienceDirect provides access to hundreds of full-text journals published by Elsevier in a wide range of subject areas including science, engineering, technology, medicine and business. Coverage dates:

1995 - Current.

Includes the Natural Science Collection and the Technology Collection and provides full-text titles from around the world, including scholarly journals, trade and industry journals, magazines, technical reports, conference proceedings, government publications, and more. Coverage dates:

1946 - Current.

A comprehensive abstract & citation database of peer-reviewed literature: scientific journals, books & conference proceedings. It can also be used by researchers to determine the impact of specific authors, articles/documents and journals. Coverage dates:

1823 to present.

Shock & Vibration Digest searches topics related to shock and vibration, including noise, vibration technologies, and other areas. Coverage dates:

1955 - Current.

Small Engine Repair Reference Center provides users with detailed, yet user-friendly repair guides for all manner of small engines. Coverage dates:

1983-Current.

Contains journals, conference proceedings, and eBooks from SPIE The International Society for Optical Engineering. This is a major resource in optics and photonics. Coverage dates:

1962-present.

SpringerLink contains the full text of journals, eBooks, and conference proceedings published by Springer. Coverage dates:

1996 - Current.

The Wiley Encyclopedia of Electrical and Electronics Engineering, updated quarterly, is a comprehensive reference work that covers electrical and electronics engineering, including both basic and advanced topics.
Wiley Online Library is a multi-disciplinary database that provides access to millions of articles from thousands of journals, thousands of books, and hundreds of multi-volume reference works. Coverage dates:

Varies.
Return to top