Databases by Subject/Topic: Geography
Icons:
Available to current TCU students, faculty, and staff.
Available to TCU faculty, staff, and grad students only.
Available to Brite students, faculty, and staff only.
Available to Clark Society members.
Available to all patrons.
Best Bets for Geography
GeoRef searches the geoscience literature of the world, and includes millions of reference to geoscience journal articles, books, maps, conference papers, reports, and theses. Coverage dates:

1785 - Current.

Web of Science searches thousands of journals in the sciences, social sciences, and arts and humanities. A unique feature of Web of Science is the ability to see which articles have cited a given article. Web of Science offers the ability to search many databases simultaneously, including Science Citation Index, Social Sciences Citation Index, Arts & Humanities Citation Index, and several others. Coverage dates:

1945 - Current.

Cross-disciplinary, scholarly electronic journal collection containing the full text of back issues of journals in many different subject areas. Also includes thousands of eBooks. Especially strong in Arts and Sciences. Coverage dates:

Varies.
Social Sciences Librarian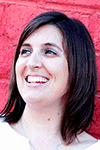 r.reid@tcu.edu
817.257.5337
office: Reference office (Map)

More databases for Geography
A massive multidisciplinary resource with an abundance of full text. Abstracts and indexes 10,000+ journals and includes the full text of 6,500+ journals. 9000+ of the journals are peer-reviewed. Coverage dates:

Varies.

Provides geopolitical intelligence on countries: demographics, economic overviews, investment overviews, social overviews, environmental overviews, and political overviews. Daily news coverage, maps, and macroeconomic forecasts available.
One of the most popular ways of teaching World History is through the story of Global Commodities and the way in which these transformed the world. This project focuses on fifteen significant commodities whose stories are often intertwined. Coverage dates:

18th-20th Century.

Data archive from an international consortium of academic institutions and research organizations. Coverage dates:

1790 to Current.

The largest compilation ever created of biographical information on indigenous peoples from all areas of North America. With 100,000 pages of content, including biographies, autobiographies, oral histories, reference works, manuscripts, and photographs, the database presents the life stories of American Indians and Canadian First Peoples in their own words and through the words of others. Coverage dates:

17th - 21st centuries.

Oxford Islamic Studies Online features reference content and commentary by renowned scholars in areas such as global Islamic history, concepts, people, practices, politics, and culture. It includes over 5,000 A-Z reference entries, chapters from scholarly and introductory works, Qur'anic materials, primary sources, images, maps, and timelines. Coverage dates:

570 CE - Current.

PapersFirst searches papers presented at conferences, expositions, workshops, congresses, and symposia received by The British Library Document Supply Centre. Coverage dates:

1993 - Current.

Proceedings is an index of worldwide conference proceedings and is updated bi-weekly. Coverage dates:

1993 - Current.

Provides full-text to over 300 high quality humanities, arts, and social sciences journals from 60 scholarly publishers. Every journal is peer-reviewed. Coverage dates:

Varies.

Search all Proquest databases: historical newspapers, other primary sources, dissertations, current periodicals, etc. from a single page. Documents can be limited to desired source(s) from the results list. Coverage dates:

15th century - present.

Access full text and abstracts of journals in a wide range of subject areas including business, humanities, social sciences, and science, technology, and medicine. Coverage dates:

1999 - Current.

SAGE Research Methods Datasets is a collection of teaching datasets and instructional guides that give students a chance to learn data analysis by practicing themselves. These datasets are indexed by method and data type. Through practicing analysis using real data from SAGE Research Methods Datasets, students can see how analytic decisions are made.
SAGE Research Methods Video contains more than 125 hours of video, including tutorials, case study videos, expert interviews, and more, covering the entire research methods and statistics curriculum. The videos can help to bring methods to life: instead of reading about how to conduct a focus group, students can watch one in action. Through these videos, 60% of which are exclusive to SAGE, students can find extra help and support to guide them through every step of their research project and succeed in their research methods course.
ScienceDirect provides access to hundreds of full-text journals published by Elsevier in a wide range of subject areas including science, engineering, technology, medicine and business. Coverage dates:

1995 - Current.

A web-based mapping application that allows you to create exportable maps and reports using powerful demographic, business, and marketing data. Maps can be created at the zip code, city, or county level. You must create an account in order to save your work.

Limited to 1 user at a time.

Coverage dates:

Current.

Texas Digital Sanborn Maps, 1867-1970 provides access to large-scale maps of Texas towns and cities. The maps also give street names, street and sidewalk widths, property boundaries, building use, and house and block numbers. Coverage dates:

1867 - 1970.

Wiley Online Library is a multi-disciplinary database that provides access to millions of articles from thousands of journals, thousands of books, and hundreds of multi-volume reference works. Coverage dates:

Varies.
Return to top