Databases by Subject/Topic: Art
Icons:
Available to current TCU students, faculty, and staff.
Available to TCU faculty, staff, and grad students only.
Available to Brite students, faculty, and staff only.
Available to Clark Society members.
Available to all patrons.
Best Bets for Art
A broad range of related subjects from fine, decorative and commercial art, to various areas of architecture and architectural design. This resource searches the content of these well known art resources: Art Index Retrospective, Art Index and Art Abstracts. Coverage dates:

1937-present.

Cross-disciplinary, scholarly electronic journal collection containing the full text of back issues of journals in many different subject areas. Also includes thousands of eBooks. Especially strong in Arts and Sciences. Coverage dates:

Varies.

Online full text of The Dictionary of Art, The Oxford Companion to Western Art and Benezit Dictionary of Artists. It is a reference and biographical resource for all aspect of worldwide visual arts from prehistory to the 1990s. Many articles have been updated since the original publication.

Limited to 3 users at once.

Coverage dates:

Current.
Art & Design Librarian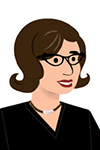 l.steinbach@tcu.edu
817.257.7311
More databases for Art
Primary source periodical literature from the UK. Coverage dates:

1800-1900.

Primary source periodical literature from the UK. Coverage dates:

1800 - 1900.

A massive multidisciplinary resource with an abundance of full text. Abstracts and indexes 10,000+ journals and includes the full text of 6,500+ journals. 9000+ of the journals are peer-reviewed. Coverage dates:

Varies.

Contains more recent local, state, national, and international newspaper articles. Coverage dates:

Early 20th century - Current.

Reference source for African American Studies.

Limited to 3 users at once.

Coverage dates:

1619 - Current.

Digitized images of the pages of American magazines and journals documenting the life of America's people from the Colonial Era through the Civil War and Reconstruction. Coverage dates:

1691 - 1877.

The database includes more than 153,000 theses and dissertations in total, including 70,000 new citations for theses and dissertations. The new citations include a link to access the full text, when available, via the Institutional Repository where the thesis or dissertation is housed. Coverage dates:

1902 to present.

A keyword searchable archive of photos, graphics, text, and audio from the Associated Press. Coverage dates:

1840 - Current.

A primary source collection that spans the spectrum of arts and the history of architecture, from fine and applied arts, through to interior and industrial design, landscape gardening, and restoration. Coverage dates:

1854-2005.

Provides abstracts of journal articles, exhibition catalogs, museum bulletins, books, and dissertations that focus on modern and contemporary art, artists, art movements, trends, and art history and theory. The late 19th century to the present is covered. Coverage dates:

1973 - Current.

Covers of a broad range of time and place, with entries from 3000 B.C. to the present day, and art from the cultures of Africa, Asia, Europe, and the Americas, including Native American and Meso-American peoples. The images in this collection offer a wealth of art information to enrich leaning in cultural studies, area studies, women's studies, archaeology, history, religion, social studies, literature and more. Coverage dates:

3000 BC to present.

Consists of nearly 3,000 texts of French literature, ranging from classic works to non-fiction. The 18th to the 20th are represented, with a selection of 17th century texts as well as some medieval and Renaissance texts. The corpus is updated as new high-quality digital texts become available. Coverage dates:

17th-20th centuries.

An index to the journal literature of the arts and humanities. It covers 1,160 of the world's leading arts and humanities journals. It also indexes individually selected, relevant items from over 6,800 major science and social science journals. Coverage dates:

1981 - Current.

Consists of three databases: Design Abstracts Retrospective, ReVIEW, and Arts+Architecture ProFiles. Design Abstracts Retrospective (DAR) is a new ongoing abstracting and indexing service that aims to cover full contents of 70 of the most important design and applied arts journals published during the 20th century. Coverage dates:

1893 - 1986.

More than one million images from outstanding museums, photographers, libraries, scholars, photo archives, and artists and artists' estates from all over the world. Subject areas include art, architecture, music, religion, anthropology, literature, world history, American Studies, Asian Studies, Classical Studies, Medieval Studies, Renaissance Studies, and more.
A comprehensive listing of journal articles on architecture and design, including bibliographic descriptions on subjects such as the history and practice of architecture, landscape architecture, city planning, historic preservation, and interior design and decoration. An excellent source of biographical and professional information about architects Coverage dates:

1934 - Current, with selective coverage from 1741.

Provides integrated text and image content on world dress and fashion throughout history. Useful to scholars, students, professionals, and anyone interested in dress, it includes the Encyclopedia of World Dress and Fashion, an extensive E-Book collection, a vast image bank, extra reference resources and more. Coverage dates:

From early times to present day.

A merger of two well-known art databases: Bibliography of the History of Art (BHA) and International Repertory of the Literature of Art/ Répertoire de la litterature de l'art (RILA). These citation databases, searchable together, cover material published between 1975 and 2007. For material published after 2007 see the International Bibliography of Art (IBA). Coverage dates:

1975 - 2007.

Provides biographical information and major accomplishments for more than 1.4 million individuals worldwide. Often referred to as Who's Who.

Limited to 5 users at once.

Coverage dates:

1607 - Current.

Gale Biography in Context includes biographical material from authoritative reference works, full-text newspapers, journals, and video and audio clips from NBC and NPR
Comprehensive global coverage of the history, theory and practice of crafts and design. Coverage dates:

Prehistoric times to the present.

The Chicago Manual of Style Online allows you to search or browse the full text of the latest edition. Tools, such as sample forms, proofreader's marks, letters, and style sheets are also provided.

Limited to 25 users at once.

Coverage dates:

Current.

Prominent British newspaper. Coverage dates:

1896-2004.

Search for full-text articles from this local Texas newspaper. Coverage dates:

1885 - Current.

Search for full text articles from historical editions of this newspaper. Coverage dates:

1885 - 2016.

Contains citations and abstracts from over 500 design and craft journals and newspapers. Research articles, news items, conference and seminar reports, book, video and exhibition reviews are covered. Both new designers and the development of design and applied arts are covered. Coverage dates:

1973 - Current.

Peer-reviewed journal articles for topics in Education. Coverage dates:

1929-Current.

Provided by the U.S. Department of Education. Contains articles and reports regarding all aspects of education. Coverage dates:

1966 - Current.

Essay and General Literature Index cites records contained in collections of essays and miscellaneous works published in the United States, Great Britain, and Canada. Coverage dates:

1983 - present.

A digital archive of ethnographic field videos.
Filmakers Library Online provides award-winning documentaries with relevance across the curriculum--race and gender studies, human rights, globalization and global studies, multiculturalism, international relations, criminal justice, the environment, bioethics, health, political science and current events, psychology, arts, literature, and more.
FoD is a growing repository of on-demand video for multiple subject disciplines. Content is from sources such as Films for the Humanities and Sciences, PBS, History Channel, National Geographic, TED and television networks such as BBC and CBC. Embedding or linking to videos is possible and transcripts are available.
This catalog allows you to search the library collections of the Amon Carter Museum, Kimbell Art Museum, Modern Art Museum of Fort Worth and the National Cowgirl Museum and Hall of Fame.
Search for full-text articles from this local Texas newspaper. Coverage dates:

1902 - Current.

This database provides full text of the Fort Worth Star-Telegram from 1902 through 1991. Search options include the ability to limit to articles, matrimony notices, birth notices, and obituaries. Classified and display advertising, photos and graphics are also included. Major news topics and events are highlighted. Coverage dates:

1902-1991.

Presents citations from prominent art history periodicals indexed by the Frick Art Reference Library (FARL) from 1850-1969. Coverage dates:

1850-1969.

Detailed "how-to" instructions and creative ideas from books and magazines to meet the interests of virtually every hobby enthusiast. Coverage dates:

1977-Current.

An online cross-cultural database containing information on world's prehistory. The annually-growing eHRAF database is organized by archaeological traditions and the documents are subject-indexed at the paragraph level. eHRAF Archaeology is a unique resource designed to facilitate comparative archaeological studies. Coverage dates:

Mostly prehistory.

Humanities Full Text includes many important academic journals in the humanities with the full text of articles from over 300 periodicals dating back to 1995, and indexing for almost 700 journals, 470 of them peer-reviewed, dating back to 1984. The database also includes original works of fiction, drama, and poetry. Coverage dates:

1984 - present.

Indexes and abstracts over 2000 titles in the humanities from articles, essays and reviews, as well as original creative works including poems, fiction, photographs, paintings and illustrations. Coverage dates:

1925 - Current.

A digital collection of alternative press newspapers, magazines and journals. Coverage dates:

1951 - present.

An international bibliography of publications in European languages on all aspects of Islam and the Muslim world. It covers their history, beliefs, societies, cultures, languages and literature. The file contains indexing for over 3,400 titles with coverage dating back to 1906. Coverage dates:

1906 to present.

An immense visual archive of medieval art, describing and presenting iconographic subjects and images from early apostolic times to the early modern era. Coverage dates:

Early apostolic times to approximately 1400 AD.

Includes over 26,000 records from 42 art journals published in the United States during the 19th century. The entire contents of each issue are indexed in the database. It offers essential information on artists and illustrators, painting, sculpture, drawing, photography, architecture, design, decoration, exhibitions, sales, and collecting. Coverage dates:

19th Century.

A definitive resource for scholarly literature on western art. It succeeds the Bibliography of the History of Art, recognized as the world's most comprehensive bibliography of scholarly writing about the history of western art. Coverage dates:

2008 - Current.

Apparel, garment & textile industry news, analysis and research. The range of sectors covered include: Apparel, Fibres & fabrics, Finance, Footwear, Manufacturing, Retail, Social & environmental responsibility, Sourcing and Technology. Registration required. Coverage dates:

1 year to Present.

Prominent newspaper from the West Coast. Coverage dates:

1881-1991.

Houses over 7,000 advanced, sustainable and innovative materials representing eight categories: polymers, naturals, metals, glass, ceramics, carbon-based materials, cement-based materials, and processes. Coverage dates:

Current.

Prominent American weekly magazine. Coverage dates:

1865 - present.

Prominent newspaper from the U.S. Coverage dates:

June 1980 - present.

Prominent newspaper from the U.S. Coverage dates:

1851 - 4 years ago.

The largest compilation ever created of biographical information on indigenous peoples from all areas of North America. With 100,000 pages of content, including biographies, autobiographies, oral histories, reference works, manuscripts, and photographs, the database presents the life stories of American Indians and Canadian First Peoples in their own words and through the words of others. Coverage dates:

17th - 21st centuries.

Online version of the Official Museum Directory. Includes all types of museums within the United States.

Limited to 1 user at a time.

Coverage dates:

Current.

A Social Enterprise run by scholars who are committed to making high-quality research available to readers around the world. We publish monographs and textbooks in all areas, and offer the academic excellence of a traditional press, with the speed, convenience and accessibility of digital publishing. All our books are available to read for free online. Coverage dates:

2007-present.

Oxford Bibliographies offers exclusive, authoritative research guides. Combining the best features of an annotated bibliography and a high-level encyclopedia, this cutting-edge resource guides researchers to the best available scholarship across a wide variety of subjects. Coverage dates:

Varies.

Contains the complete text of the 20-volume Second Edition of the Oxford English Dictionary, first published in 1989, together with its 3-volume Additions Series, published in 1993 (volumes 1 and 2) and 1997 (volume 3). It also contains the New Edition in progress, which is updated quarterly with hundreds of new entries.
Oxford Islamic Studies Online features reference content and commentary by renowned scholars in areas such as global Islamic history, concepts, people, practices, politics, and culture. It includes over 5,000 A-Z reference entries, chapters from scholarly and introductory works, Qur'anic materials, primary sources, images, maps, and timelines. Coverage dates:

570 CE - Current.

Contains subject modules for Philosophy, Religion, Economics and Finance, and Political Science - and offers over 1200 complete and fully searchable books, with 200 titles added each year. TCU has purchased access to the full text of the Philosophy and Religion modules ONLY. For the other modules, users can view book and chapter abstracts.

Limited to 5 users at once.

Rock and roll, counterculture, peace and protest. Coverage dates:

1950-1975.

Search all Gale British and American primary source documents from a single site. Includes newspaper and magazine archives, as well as pamphlets, letters, books, etc. Use the "Searching Databases" dropdown to focus on specific collections. Coverage dates:

1500-2012.

Provides full-text to over 300 high quality humanities, arts, and social sciences journals from 60 scholarly publishers. Every journal is peer-reviewed. Coverage dates:

Varies.

Search all Proquest databases: historical newspapers, other primary sources, dissertations, current periodicals, etc. from a single page. Documents can be limited to desired source(s) from the results list. Coverage dates:

15th century - present.

Electronic version of an essential print reference, provides indexing for millions of articles in over 500 leading magazines. Includes peer-reviewed and consumer publications. Key finding tool for many 20th century publications where indexing did not begin until the 1980s. Coverage dates:

1890-1982.

The largest and most comprehensive resource on Modernism. Coverage dates:

1890-1945.

A comprehensive survey of current publications related to film scholarship alongside detailed and expansive filmographies. This collection includes the specialist index FIAF International Index to Film Periodicals Database and the detailed and complementary filmographies created by the American Film Institute and the British Film Institute, AFI Catalog, and Film Index International. Coverage dates:

1900 - Current.

Multidisciplinary statistics database containing 1.5 million statistics, facts and market data with coverage on more than 80,000 topics. Includes industry, company and consumer information, with about 50% of the data from U.S. sources. The remaining information is global, with rich data for Africa, Asia, Europe, and the Americas. Statistics can be exported in multiple formats for re-use or additional analysis. Coverage dates:

2008 - present.

Offers every issue of The Times of London newspaper from 1785 to 2008 in a digital format. Coverage dates:

1785-six years before Current year.

First ever scholarly, primary source database focusing on adult comic books and graphic novels. Beginning with the first underground comix from the 1960s to the works of modern sequential artists, this collection will contain more than 75,000 pages of comics and graphic novels, along with 25,000 pages of interviews, criticism, and journal articles that document the continual growth and evolution of this art form. Coverage dates:

1960s to present.

Contains the entire run of Vogue magazine (US edition), from the first issue in 1892 to the current month. Every page, advertisement, cover and fold-out has been included, with rich indexing enabling you to find images by garment type, designer and brand names. Coverage dates:

1892 - Current.

Full text articles from prominent U.S. newspaper, complete through current day. No images. Coverage dates:

1987 - Current.

Who's Who is the leading source of up-to-date information about over 34,000 influential people from all walks of life, worldwide. Who Was Who collects together the entries of nearly 100,000 people, now deceased. Provides fascinating insights into the private lives of public figures with detailed information for each person.

Limited to 3 users at once.

Coverage dates:

1849 - Current.

The WMR Project is a digitally sortable text archive consisting of over two hundred critical articles published by William Michael Rossetti in multiple Victorian periodicals spanning the years 1848 to 1909 Coverage dates:

1849-1909.

Contains all the records cataloged by OCLC member libraries. Millions of bibliographic records in 400 languages and different formats such as books, computer programs, films and slides, journals and magazines, articles, chapters and papers, manuscripts, maps, musical scores, newspapers, sound recordings and videotapes are included. Coverage dates:

Before 1000 BC - Current.
Return to top