Databases by Subject/Topic: Fashion Merchandising
Icons:
Available to current TCU students, faculty, and staff.
Available to TCU faculty, staff, and grad students only.
Available to Brite students, faculty, and staff only.
Available to Clark Society members.
Available to all patrons.
Best Bets for Fashion Merchandising
Full-text articles and abstracts for Business topics. Company profiles, industry analysis, market research reports, country reports, and SWOT analysis are also available. Includes journals, magazines, trade publications, analyst reports, statistics, and more. Contains Harvard Business Review. Coverage dates:

1886 - Current.

The leading online trend-analysis and research service providing creative and business intelligence for the apparel, style, design and retail industries. Note: The Worth Global Style Network (WGSN) merged with Stylesight trend forecasting portal on 8/4/2014. Users must create an account.

Limited to 150 users at once.

A comprehensive listing of journal articles on architecture and design, including bibliographic descriptions on subjects such as the history and practice of architecture, landscape architecture, city planning, historic preservation, and interior design and decoration. An excellent source of biographical and professional information about architects Coverage dates:

1934 - Current, with selective coverage from 1741.
Art & Design Librarian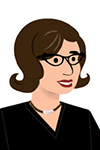 l.steinbach@tcu.edu
817.257.7311
More databases for Fashion Merchandising
A massive multidisciplinary resource with an abundance of full text. Abstracts and indexes 10,000+ journals and includes the full text of 6,500+ journals. 9000+ of the journals are peer-reviewed. Coverage dates:

Varies.

More than one million images from outstanding museums, photographers, libraries, scholars, photo archives, and artists and artists' estates from all over the world. Subject areas include art, architecture, music, religion, anthropology, literature, world history, American Studies, Asian Studies, Classical Studies, Medieval Studies, Renaissance Studies, and more.
Provides integrated text and image content on world dress and fashion throughout history. Useful to scholars, students, professionals, and anyone interested in dress, it includes the Encyclopedia of World Dress and Fashion, an extensive E-Book collection, a vast image bank, extra reference resources and more. Coverage dates:

From early times to present day.

Provides biographical information and major accomplishments for more than 1.4 million individuals worldwide. Often referred to as Who's Who.

Limited to 5 users at once.

Coverage dates:

1607 - Current.

Includes biographical material from authoritative reference works, full-text newspapers, journals, and video and audio clips from NBC and NPR
Comprehensive global coverage of the history, theory and practice of crafts and design. Coverage dates:

Prehistoric times to the present.

Contains citations and abstracts from over 500 design and craft journals and newspapers. Research articles, news items, conference and seminar reports, book, video and exhibition reviews are covered. Both new designers and the development of design and applied arts are covered. Coverage dates:

1973 - Current.

Locate essays and book chapters contained in collections of essays and other miscellaneous books published in the United States, Great Britain, and Canada. Focuses on the humanities and social sciences. Coverage dates:

1983 - present.

This collection comprises thousands of fully searchable images (alongside transcriptions) of monographs, pamphlets, periodicals and broadsides addressing 19th and early 20th century political, social and gender issues, religion, race, education, employment, marriage, sexuality, home and family life, health, and pastimes. The collection is especially rich in conduct of life and domestic management literature. Coverage dates:

1800-1920.

Full color collection of the US (1867-present) and UK (1929-2015) editions of the fashion magazine. Includes searchable index. Coverage dates:

1867 - Present.

Provides in-depth Domestic and Global Industry analysis. Also includes Risk Ratings reports and US Business Environment Profiles. iExpert Summaries provide brief overviews of industries and are designed for job interviews. Coverage dates:

Current.

Cross-disciplinary, scholarly electronic journal collection containing the full text of back issues of journals in many different subject areas. Also includes thousands of eBooks. Especially strong in Arts and Sciences. Coverage dates:

Varies.

Apparel, garment & textile industry news, analysis and research. The range of sectors covered include: Apparel, Fibres & fabrics, Finance, Footwear, Manufacturing, Retail, Social & environmental responsibility, Sourcing and Technology. Registration required. Coverage dates:

1 year to Present.

American photojournalism magazine. Focused on story-telling through documentary photographs. Coverage dates:

1936 - 2000.

Houses over 7,000 advanced, sustainable and innovative materials representing eight categories: polymers, naturals, metals, glass, ceramics, carbon-based materials, cement-based materials, and processes. Coverage dates:

Current.

Provides market research reports for U.S. and European markets. Reports include consumer behavior, SWOT analysis, brand share analysis, advertising, trends, marketing strategies, and more. Also contains reports on specific groups and their consumer behavior. Coverage dates:

2001 - Current.

Provides access to the full text of articles from approximately 3,400 publications, many of them peer-reviewed. Core subjects include art, education, humanities, law, social sciences and technology. Some graphical content, podcasts, foreign language article translations and article read-alouds. Coverage dates:

1994 - Current.

Online full text of The Dictionary of Art, The Oxford Companion to Western Art and Benezit Dictionary of Artists. It is a reference and biographical resource for all aspect of worldwide visual arts from prehistory to the 1990s. Many articles have been updated since the original publication.

Limited to 3 users at once.

Coverage dates:

Current.

Rock and roll, counterculture, peace and protest. Coverage dates:

1950-1975.

An apparel sourcing planning suite that helps sourcing professionals decide where to source products from. It uses data and intelligence to help the apparel industry save time, shrink costs and manage supply chain risk. Coverage dates:

10 years ago to present.

Multidisciplinary statistics database containing 1.5 million statistics, facts and market data with coverage on more than 80,000 topics. Includes industry, company and consumer information, with about 50% of the data from U.S. sources. The remaining information is global, with rich data for Africa, Asia, Europe, and the Americas. Statistics can be exported in multiple formats for re-use or additional analysis. Coverage dates:

2008 - present.

Provides extensive coverage of the scientific and technological aspects of textile production and processing. The database covers over 400 periodical titles and thousands of titles drawn from sources such as books, conferences, theses, technical reports, and trade literature Coverage dates:

1944 - Current.

Contains the entire run of Vogue magazine (US edition), from the first issue in 1892 to the current month. Every page, advertisement, cover and fold-out has been included, with rich indexing enabling you to find images by garment type, designer and brand names. Coverage dates:

1892 - Current.

Leading source of up-to-date information about over 34,000 influential people from all walks of life, worldwide. Who Was Who collects together the entries of nearly 100,000 people, now deceased. Provides fascinating insights into the private lives of public figures with detailed information for each person.

Limited to 3 users at once.

Coverage dates:

1849 - Current.

An archival research resource comprising the full backfiles of leading women's interest consumer magazines. Coverage dates:

1846 - 2005.

A definitive fashion and retail publication. WWD contains past print issues and supplements. Contains every page of every issue since 1910, scanned from cover to cover, including all advertisements and images in high resolution and full color. Note: The print publication has ceased, it continues as an online only publication via WWD.com Coverage dates:

1910 - 4/14/2017.

WWD.com offers online access to current issues of Women's Wear Daily.

Limited to 5 users at once.

Coverage dates:

1994 to present.
Return to top