Databases by Subject/Topic: Journalism
Icons:
Available to current TCU students, faculty, and staff.
Available to TCU faculty, staff, and grad students only.
Available to Brite students, faculty, and staff only.
Available to Clark Society members.
Available to all patrons.
Best Bets for Journalism
Contains more recent local, state, national, and international newspaper articles. Coverage dates:

Early 20th century - Current.

Peer-reviewed journal articles for Communication Studies. Coverage dates:

1920s to Current.
Business Librarian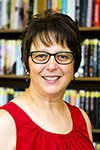 d.boerner@tcu.edu
817.257.5336
More databases for Journalism
A keyword searchable archive of photos, graphics, text, and audio from the Associated Press. Coverage dates:

1840 - Current.

Includes biographical material from authoritative reference works, full-text newspapers, journals, and video and audio clips from NBC and NPR
Contains abstracts of articles and books published in the professional literature of the Communication(s) field. Subjects include mass communication, human interaction, rhetoric, health communication, new media, journalism and communication history. Coverage dates:

Varies.

Provides data and metrics about the relative publication performance of individual scholars and of departments of communication (journalism, mass communication, speech, communication studies, media studies, rhetoric, etc.). Coverage dates:

1915 - Current.

Contains full-text for congressional hearings, public issues, legislation, and history. Coverage dates:

1789 - Current.

In-depth analysis about current and controversial issues, including viewpoints from different sides of each issue.
Includes full-text profiles of artists, politicians, business people, journalists, actors, authors, sports figures, scientists, and people in the news. Also includes obituaries with photographs.

Limited to 1 user at a time.

Coverage dates:

1940 - Current.

Ethnic NewsWatch contains full-text newspapers, magazines, journals, and newsletters of the ethnic, minority, and native press. Designed to provide the other side of the story, ENW titles offer additional viewpoints from those proffered by the mainstream press. Coverage dates:

1959 to Current.

This collection comprises thousands of fully searchable images (alongside transcriptions) of monographs, pamphlets, periodicals and broadsides addressing 19th and early 20th century political, social and gender issues, religion, race, education, employment, marriage, sexuality, home and family life, health, and pastimes. The collection is especially rich in conduct of life and domestic management literature. Coverage dates:

1800-1920.

Index of periodicals produced by various government agencies. Coverage dates:

1989 - Current.

Reference source for communication studies. Coverage dates:

Current.

Find statistics from poll questions that have been asked in the US since 1935. All of the major polling organizations in the US are included. Coverage dates:

1935 - Current.

Provides information on over 7,100 journals, with 4,400 currently indexed in the database. Entries include the following information: editorial addresses, phone numbers, e-mail addresses, publication frequency, periodicals' scopes, circulation figures, submission guidelines, statistics on how many articles and book reviews the periodicals publish each year, and how many are submitted.
Prominent American weekly magazine. Coverage dates:

1865 - present.

Access news videos about historical and current events on a variety of topics. Coverage dates:

1950 - Current.

Provides news articles for financial, medical, and legal information. Transcripts and wire services are also available. Other special features include: Company Profiles, SEC filings, Biographies, Country Information, Federal and State Cases, Patents, Broadcast Transcripts, and more. Replaces LexisNexis Academic. Saving documents and searches, and annotating documents are a few of the additional features after registering for a personal account.
Provides access to the full text of articles from approximately 3,400 publications, many of them peer-reviewed. Core subjects include art, education, humanities, law, social sciences and technology. Some graphical content, podcasts, foreign language article translations and article read-alouds. Coverage dates:

1994 - Current.

A collection of full text articles about current issues and events. Each topic is presented with points of view (pros and cons) from each side of the issue. Coverage dates:

Varies.

Paley Center Seminars is an online video archive of the acclaimed seminar series held by The Paley Center for Media in New York and Los Angeles. The seminars feature the leading names in media discussing the creative process, contemporary issues in production, and the impact of the media on society. Coverage dates:

Current.

Full text of 700K questions and responses from 18k+ public opinion surveys and 1700+ polling organizations. Polls for the U.S and more than 100 other countries. Data on all the pressing social issues of the day. Coverage dates:

1986 - present.

Search all Proquest databases: historical newspapers, other primary sources, dissertations, current periodicals, etc. from a single page. Documents can be limited to desired source(s) from the results list. Coverage dates:

15th century - present.

Contains Statistical data from government and international organizations. Includes statistics for popular topics such as human trafficking, identity theft, housing prices, and more. Coverage dates:

1973 - Current.

RBP is the World's only comprehensive online archive of music journalism and writing, providing access to an ever-expanding collection of primary-source, full-text music writing (currently over 32,000 articles), sourced from the pages of the music and mainstream press. Not just a resource for music courses, but also journalism, literature, national and international cultural studies, gender studies, sociology, politics and economics. RBP contains articles (reviews, interviews, features and more) from the '50s up to present day and includes a growing collection of exclusive audio interviews. The content represents the work of over 670 of the best music writers on the planet from over 4,500 publications (Rolling Stone, NME etc etc), representing over 2,500 artists from all genres of music. Coverage dates:

1950 to present.

Provides access to the most up-to-date and accurate bibliographic information, as well as current pricing structures, email and internet addresses for popular U.S. and international serials and newspapers. Coverage dates:

Current.

SpringerLink contains the full text of journals, eBooks, and conference proceedings published by Springer. Coverage dates:

1996 - Current.

Multidisciplinary statistics database containing 1.5 million statistics, facts and market data with coverage on more than 80,000 topics. Includes industry, company and consumer information, with about 50% of the data from U.S. sources. The remaining information is global, with rich data for Africa, Asia, Europe, and the Americas. Statistics can be exported in multiple formats for re-use or additional analysis. Coverage dates:

2008 - present.

Indexes these TCU publications: The Skiff, Image, TCU Magazine and TCU This Week. (The Skiff portion covers issues from 1993 to current.) Coverage dates:

1993 - Current.

Cover-to-cover scans of more than 1,500 World War I periodicals. Includes indexing of both publications and articles. Coverage dates:

1914-1919.

U.S. Government publications including Congressional reports, documents, executive agency reports, departmental reports, and legislative reports, all published under the directive of Congress. The acquisition of this database was made possible by a gift from Dr. Paul Boller. Coverage dates:

1789 - 1969; 2004 - Current.

Provides access to the five most respected US national and regional newspapers, including The New York Times and Washington Post, co-exclusive access to The Wall Street Journal, and exclusive access to Los Angeles Times and Chicago Tribune. The content is available by 8am each day. Images are not included. Coverage dates:

1985 - Current day.
Return to top