Databases by Subject/Topic: Nursing
Icons:
Available to current TCU students, faculty, and staff.
Available to TCU faculty, staff, and grad students only.
Available to Brite students, faculty, and staff only.
Available to Clark Society members.
Available to all patrons.
Best Bets for Nursing
MEDLINE Complete provides authoritative medical information on medicine, nursing, dentistry, veterinary medicine, the health care system, pre-clinical sciences, and much more. MEDLINE Complete searches citations from over 5,600 current biomedical journals and full text for over 2,000 journals indexed in MEDLINE. Of those, more than 1,980 have cover-to-cover indexing in MEDLINE. Coverage dates:

1865 to present.

CINAHL Complete is the world's most comprehensive source of full-text for nursing & allied health journals, providing full text for thousands of journals. CINAHL provides research materials including health care books, select conference proceedings, evidence-based care sheet and quick lesson disease overviews. Coverage dates:

1937 - Current.

ProQuest Nursing & Allied Health Source provides abstracting and indexing for thousands of leading nursing titles, with hundreds of titles in full text. It provides users with reliable healthcare information covering nursing, allied health, alternative and complementary medicine. Coverage dates:

1986 - Current.
Nursing & Nurse Anesthesia Librarian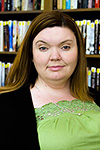 alysha.sapp@tcu.edu
817.257.5348
office: Reference office (Map)

More databases for Nursing
A massive multidisciplinary resource with an abundance of full text. Abstracts and indexes 10,000+ journals and includes the full text of 6,500+ journals. 9000+ of the journals are peer-reviewed. Coverage dates:

Varies.

Based on the McGraw Hill Encyclopedia of Science and Technology. It includes articles, definitions, images, biographies, and some multimedia. Coverage dates:

Current.

Premier resource for social gerontology research; focuses exclusively on issues of aging and the population of people aged 50+ years. Provides bibliographic coverage in psychological, health-related, social, and economic contexts in national and global perspectives. Coverage dates:

1918 - present.

The online AMA Manual of Style has a streamlined interface, intuitive search and browse, and personalization features, so finding what you need in the Manual is easier than ever. Coverage dates:

Current.

A bibliographic database that is design to provide resources related to complementary medicine and alternative treatments. It is produced by the Health Care Information Service of the British Library. Coverage dates:

1995 to present.

The database includes more than 153,000 theses and dissertations in total, including 70,000 new citations for theses and dissertations. The new citations include a link to access the full text, when available, via the Institutional Repository where the thesis or dissertation is housed. Coverage dates:

1902 to present.

Provides medically accurate and detailed 3D graphic rendering of human anatomy. PALMS included – Flash Card system that uses automated sequencing for memorization.
ClinicalKey gives access to all of Elsevier's current medical and surgical content, including First Consult. ClinicalKey's content includes thousands of textbooks and top medical journals, providing the most current clinically relevant evidence-based answers, as well as expert commentary, MEDLINE abstracts and select third-party journals. Coverage dates:

Current.

Cochrane Clinical Answers (CCAs) provides a readable, digestible, clinically focused entry point to rigorous research from Cochrane systematic reviews. Designed to be actionable and to inform decision making at the point of care, each Cochrane Clinical Answer contains a clinical question, a short answer, and an opportunity to "drill down" to the evidence from relevant Cochrane reviews. The evidence is displayed in a user friendly format, mixing narrative, numbers and graphics. Coverage dates:

Varies.

The Cochrane Library consists of a regularly updated collection of evidence-based medicine databases and it is an authoritative full-text source of evidence over health care. It includes systematic reviews, clinical trials, research studies, clinical answers, and more. Coverage dates:

Varies.

Search for conference presentations of leading edge research in the sciences and social science. Cross-disciplinary and focused on the most significant and credible professional and scholarly conferences. Sometimes referred to as grey literature. Coverage dates:

1990-present.

ProQuest Dissertations & Theses Global searches millions of dissertations and theses from around the world, and has over one million dissertations in full text. Coverage dates:

1743 - Current.

DynaMed is a clinical information resource used by physicians to answer clinical questions quickly and easily at the point of care. It includes thousands of topics that provide clinicians and educators with the evidence-based information they need to make informed decisions. Topics are updated daily as new evidence becomes available. Coverage dates:

Current.

EMBASE is a Major International Biomedical and Pharmaceutical database that contains over 19 million indexed records from 1974 to date, and has an overlap of titles with MEDLINE; EMBASE has been referred to as the European MEDLINE.  The database offers its own life science thesaurus called EMTREE.  Coverage dates:

1947 - Current.

This collection comprises thousands of fully searchable images (alongside transcriptions) of monographs, pamphlets, periodicals and broadsides addressing 19th and early 20th century political, social and gender issues, religion, race, education, employment, marriage, sexuality, home and family life, health, and pastimes. The collection is especially rich in conduct of life and domestic management literature. Coverage dates:

1800-1920.

Global Health is the only specialized bibliographic, abstracting and indexing database dedicated to public health. The database covers all aspects of public health at both international and community levels, as well as a wealth of material from other biomedical and life science fields.

Limited to 3 users at once.

Coverage dates:

Current.

A comprehensive database covering all aspects of health policy. With full-text for more than 300 industry-leading journals, it supports decision-making, planning and research in a variety of healthcare system areas. Coverage dates:

Varies.

Provides access to full-text of nursing and allied health journals, plus a wide variety of personal health information sources. Integrated collection of medical and professional periodicals, reference books, health magazines and hundreds of health-related multimedia. Coverage dates:

1980 - Current.

This database provides nearly 330 scholarly full text journals and 260 peer-reviewed, full-text journals, focusing on many medical disciplines. Health Source: Nursing/Academic Edition also features the AHFS Consumer Medication Information, which covers 1,300 generic drug patient education sheets with more than 4,700 brand names. Coverage dates:

1963 - Current.

The Joanna Briggs Institute (JBI) is widely regarded as one of the world's leading providers of evidence–based information. This database provides exclusive access to the following JBI resources: Systematic Reviews, Evidence Summaries, Best Practice Information Sheets, and more. Coverage dates:

1948 - Current.

Merck Index Online searches chemical information for thousands of substances and reactions. Merck Index focuses on chemicals, drugs, and biologicals. Coverage dates:

1890s - present.

An evidence-based resource used by clinicians to inform and educate care decisions with the goal to meaningfully improve patient outcomes. It is a comprehensive drug-based resource also spanning diseases, acute care, toxicology, alternative medicines and patient education materials.
Nursing Education in Video is an online collection of videos created specifically for the education and training of nurses, nursing assistants, and other healthcare workers. The videos in this collection have been created by Medcom-Trainex. Coverage dates:

Current.

Nursing Reference Center offers staff nurses, nurse administrators, nursing students, nurse faculty, and hospital librarians the best available and most recent clinical evidence and knowledge on conditions and diseases, patient education, and drug & reference information from top publishers. Coverage dates:

Current.

Nursing @ Ovid is a comprehensive, integrated nursing and allied health portal for information about practice, education, research, and administration. The databases core service is comprised of three components: Proprietary Nursing Subject Thesaurus, Ovid's new Controlled Vocabulary, and an associated Lexicon which meets the needs of nurses. Coverage dates:

1948 - Current.

Electronic flash cards that quiz students using an automated sequencing procedure to assist in memorizing anatomy at the appropriate time.
The Nutrition Care Manuals are therapeutic diet manuals and professional practice manuals for registered dietitians; dietetic technicians, registered; and allied health professionals. This particular manual is the Pediatric Nutrition Care Manuals, for pediatric populations and their caregivers.

Limited to 5 users at once.

Coverage dates:

Current.

These videos cover all major drug classes and include: mechanism of action, key pharmacokinetics, major therapeutic uses, and common and serious adverse effects. Incorporates relevant physiology, pathophysiology and biochemistry.
An index to the worldwide literature on PTSD and other mental health issues as consequences of exposure to traumatic events. Includes all publications relevant to PTSD regardless of their disciplinary, linguistic or geographic origin. Coverage dates:

1871 to Current.

A subscription service for prescribers to keep them up to date on new developments in drug therapy. Prescribers receive very short concise updates and advice. The Detail-Documents provide in-depth coverage answering many specific questions related to each topic.
Search all Proquest databases: historical newspapers, other primary sources, dissertations, current periodicals, etc. from a single page. Documents can be limited to desired source(s) from the results list. Coverage dates:

15th century - present.

PsychiatryOnline contains institutional subscriptions from American Psychiatric Publishing. These include the DSM, The American Journal of Psychiatry, Psychiatric Services, Psychiatric News, and other psychiatric journals and textbooks. Coverage dates:

1844 to present.

Focused on the interdisciplinary aspects of the worldwide behavioral and social science research and literature, PsycINFO contains citations and summaries of scholarly journal articles, book chapters, books, technical reports and dissertations, from international sources in psychology and related disciplines. Coverage dates:

1887 - Current.

This database is a full-text repository of psychological tests and measures, as well as a source of structured information about tests of relevance to psychologists and professionals in related fields. Each record includes data on the scope of the test, test implementation, a high-level overview of the test's development, and reliability and validity data. Coverage dates:

1910 to present.

PubMed is the U.S. National Institutes of Health (NIH) free digital archive of biomedical and life sciences journal literature.
SAGE Research Methods is a research methods tool created to help researchers, faculty and students with their research projects. SAGE Research Methods links over 175,000 pages of SAGE's renowned book, journal and reference content with truly advanced search and discovery tools. Researchers can explore methods concepts to help them design research projects, understand particular methods or identify a new method, conduct their research, and write up their findings. Since SAGE Research Methods focuses on methodology rather than disciplines, it can be used across the social sciences, health sciences, and more. Coverage dates:

1970 - Current.

Sage Research Methods Cases is a collection of case studies of real social research that faculty can use in their teaching. Cases are original, specially commissioned, and designed to help students understand often abstract methodological concepts by introducing them to case studies of real research projects.
SAGE Research Methods Datasets is a collection of teaching datasets and instructional guides that give students a chance to learn data analysis by practicing themselves. These datasets are indexed by method and data type. Through practicing analysis using real data from SAGE Research Methods Datasets, students can see how analytic decisions are made.
SAGE Research Methods Video contains more than 125 hours of video, including tutorials, case study videos, expert interviews, and more, covering the entire research methods and statistics curriculum. The videos can help to bring methods to life: instead of reading about how to conduct a focus group, students can watch one in action. Through these videos, 60% of which are exclusive to SAGE, students can find extra help and support to guide them through every step of their research project and succeed in their research methods course.
ScienceDirect provides access to hundreds of full-text journals published by Elsevier in a wide range of subject areas including science, engineering, technology, medicine and business. Coverage dates:

1995 - Current.

A comprehensive abstract & citation database of peer-reviewed literature: scientific journals, books & conference proceedings. It can also be used by researchers to determine the impact of specific authors, articles/documents and journals. Coverage dates:

1823 to present.

Peer-reviewed journal articles for topics in anthropology, criminal justice, social work, and sociology. Coverage dates:

1895 - Current.

Stat!Ref is a searchable medical information database for healthcare professionals. Here you can cross-reference and search the latest clinical information from more than 50 medical texts. Find answers quickly about diagnosis, treatments, drug interactions and uses, and patient referrals.

Limited to 25 users at once.

Coverage dates:

Varies.

Trip is a clinical search engine designed to allow users to quickly and easily find and use high-quality research evidence to support their practice and/or care; it also searches across other content types including images, videos, patient information leaflets, educational courses and news.
Web of Science searches thousands of journals in the sciences, social sciences, and arts and humanities. A unique feature of Web of Science is the ability to see which articles have cited a given article. Web of Science offers the ability to search many databases simultaneously, including Science Citation Index, Social Sciences Citation Index, Arts & Humanities Citation Index, and several others. Coverage dates:

1945 - Current.

Wiley Online Library is a multi-disciplinary database that provides access to millions of articles from thousands of journals, thousands of books, and hundreds of multi-volume reference works. Coverage dates:

Varies.
Return to top