Databases by Subject/Topic: Social Work
Icons:
Available to current TCU students, faculty, and staff.
Available to TCU faculty, staff, and grad students only.
Available to Brite students, faculty, and staff only.
Available to Clark Society members.
Available to all patrons.
Best Bets for Social Work
Peer-reviewed journal articles for topics in anthropology, criminal justice, social work, and sociology. Coverage dates:

1895 - Current.

Provides indexing and abstracts dealing with all aspects of the social work field: theory and practice, areas of service and social issues and problems. Subjects include therapy, education, human services, addictions, child and family welfare, mental health, civil and legal rights, and more.

Limited to 4 users at once.

Coverage dates:

1968 - Current.

Family & Society Studies Worldwide, (FSWW) provides coverage of research, policy, and practice literature in the fields of Family Science, Human Ecology, Human Development, and Social Welfare. FSSW covers popular issues as well as meeting the requirements of professionals in all fields of social work, social science and family practice. Source documents include professional journals, conference papers, books, book chapters, government reports, discussion and working papers, statistical documents, theses & dissertations and other sources. FSSW provides access to more than 1.3 million records. Coverage dates:

1970 to present.
Health Sciences Liaison & Assessment Librarian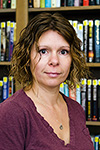 b.huddleston@tcu.edu
817.257.6063
More databases for Social Work
A massive multidisciplinary resource with an abundance of full text. Abstracts and indexes 10,000+ journals and includes the full text of 6,500+ journals. 9000+ of the journals are peer-reviewed. Coverage dates:

Varies.

Premier resource for social gerontology research; focuses exclusively on issues of aging and the population of people aged 50+ years. Provides bibliographic coverage in psychological, health-related, social, and economic contexts in national and global perspectives. Coverage dates:

1918 - present.

Interactive multi-disciplinary resource with text articles and biographies of leading pop music artists including the entire 33 1/3 book series and the Bloomsbury Encyclopedia of Popular Music. Also contains a dynamic timeline, world map and other visual tools charting the history of popular music with relevant article links. Coverage dates:

1900 - present.

Contains census data from the 2010 Decennial Census of the United States Coverage dates:

2010.

CINAHL Complete is the world's most comprehensive source of full-text for nursing & allied health journals, providing full text for thousands of journals. CINAHL provides research materials including health care books, select conference proceedings, evidence-based care sheet and quick lesson disease overviews. Coverage dates:

1937 - Current.

ClinicalKey gives access to all of Elsevier's current medical and surgical content, including First Consult. ClinicalKey's content includes thousands of textbooks and top medical journals, providing the most current clinically relevant evidence-based answers, as well as expert commentary, MEDLINE abstracts and select third-party journals. Coverage dates:

Current.

Counseling and Psychotherapy Transcripts, Client Narratives, and Reference Works contains real transcripts of counseling and therapy sessions and first-person narratives illuminating the experience of mental illness and treatment, as well as reference works to contextualize the primary material. The database contains more than 2,000 session transcripts, 44,000 pages of client narratives, and 25,000 pages of secondary reference material. Coverage dates:

1739-present.

Provides a deep look into the client-therapist office, allowing readers to follow the progress and setbacks of clients over the course of multiple therapy sessions. This collection features a diverse set of clients, a wide range of presenting issues, and multiple therapeutic approaches. Because all content was recorded in 2012 or later, Volume II features contemporary issues and the most up-to-date therapeutic approaches to treat them. The collection is an outstanding resource for teaching and research and adheres to the American Psychological Association's Ethics Guidelines for use and anonymity. Coverage dates:

2012 to Current.

Provides a large and rich collection of videos for the study of counseling, social work, psychotherapy, psychology and psychiatric counseling. Study, observe, and experience a wide variety of different therapy and counseling methods and approaches as practiced by experts in their field.
Comprehensive and international set of resources to enrich study of disability in a wide range of disciplines from media studies to philosophy.
DynaMed is a clinical information resource used by physicians to answer clinical questions quickly and easily at the point of care. It includes thousands of topics that provide clinicians and educators with the evidence-based information they need to make informed decisions. Topics are updated daily as new evidence becomes available. Coverage dates:

Current.

EMBASE is a Major International Biomedical and Pharmaceutical database that contains over 19 million indexed records from 1974 to date, and has an overlap of titles with MEDLINE; EMBASE has been referred to as the European MEDLINE.  The database offers its own life science thesaurus called EMTREE.  Coverage dates:

1947 - Current.

Provided by the U.S. Department of Education. Contains articles and reports regarding all aspects of education. Coverage dates:

1966 - Current.

This collection comprises thousands of fully searchable images (alongside transcriptions) of monographs, pamphlets, periodicals and broadsides addressing 19th and early 20th century political, social and gender issues, religion, race, education, employment, marriage, sexuality, home and family life, health, and pastimes. The collection is especially rich in conduct of life and domestic management literature. Coverage dates:

1800-1920.

Contains thousands of legal forms available with more forms being added daily. Official, State Specific, Federal, Business, Personal, Real Estate and General forms covering hundreds of legal subjects and issues. Warning: Public users should consult an attorney in your state for serious legal matters. Forms include forms drafted by attorneys for a particular legal matter, forms from public records and participating companies and attorneys. "Official" forms for many states are also included. Coverage dates:

Current.

This resource provides contextual information on hundreds of today's most significant science topics. By integrating authoritative, curriculum-aligned reference content with headlines and videos, it draws students into the subject matter, showing how scientific disciplines relate to real-world issues, from weather patterns to obesity. Coverage dates:

Current.

Global Health is the only specialized bibliographic, abstracting and indexing database dedicated to public health. The database covers all aspects of public health at both international and community levels, as well as a wealth of material from other biomedical and life science fields.

Limited to 3 users at once.

Coverage dates:

Current.

A comprehensive database covering all aspects of health policy. With full-text for more than 300 industry-leading journals, it supports decision-making, planning and research in a variety of healthcare system areas. Coverage dates:

Varies.

Provides access to full-text of nursing and allied health journals, plus a wide variety of personal health information sources. Integrated collection of medical and professional periodicals, reference books, health magazines and hundreds of health-related multimedia. Coverage dates:

1980 - Current.

Provides full-text access to a rich collection of consumer health information through popular health magazines, current health-related pamphlets and reference books. Covers topics such as AIDS, cancer, diabetes, drugs and alcohol, food sciences, sports medicine, women's health, and more. Additionally, contains Merriam-Webster's Medical Desk Dictionary. Coverage dates:

1975 - Current.

Fully searchable PDF image-based government documents and legal research materials. Coverage from inception of both U.S. statutory materials and 2,300+ scholarly journals, all of the world's constitutions, all U.S. treaties, collections of classic treatises and presidential documents, and the full text of state and federal case law. Coverage dates:

Late 18th century to present.

Collection that include 75,000 pages of text and 150 hours of video that give voice to the countless victims of human rights crimes in the 20th and early 21st centuries. Coverage dates:

20th and 21st century.

A digital collection of alternative press newspapers, magazines and journals. Coverage dates:

1951 - present.

The second edition of the International Encyclopedia of the Social and Behavioral Sciences, first published in 2001, offers a source of social and behavioral sciences reference material that is broader and deeper than any other. It comprises over 3,900 articles, commissioned by 71 Section Editors, and includes 90,000 bibliographic references as well as comprehensive name and subject indexes.
Online full text for many of the top consumer legal reference books, plus thousands of forms from Texas and other states to assist the general public in legal matters of all kinds. Coverage dates:

2000 to Current.

Cover-to-cover full color scans of periodicals that chronicle the evolution of myriad aspects of LGBT history and culture. Coverage dates:

1957 - 2015.

Hosts key works and archival documentation of LGBT political and social movements throughout the 20th century and into the present day.
A comprehensive guide to over 3,000 contemporary testing instruments. The MMY series contains information for evaluation of test products within areas as psychology, education, business and leadership. Tests in Print serves as a bibliography to all known commercially available tests that are currently in print in the English language.

Limited to 1 user at a time.

Coverage dates:

1938 - Current.

Collection of graduate dissertations and theses in areas related to health and performance. Academic areas of interest include biochemistry, biomechanics, dance, exercise physiology, history or philosophy of physical education, kinesiology, motor control, obesity, physical activity, recreation, sports marketing, sports medicine, sports pedagogy, sports psychology, and tests and measurements. Coverage dates:

1948 - present.

Offers exclusive, authoritative research guides. Combining the best features of an annotated bibliography and a high-level encyclopedia, this cutting-edge resource guides researchers to the best available scholarship across a wide variety of subjects. Coverage dates:

Varies.

An index to the worldwide literature on PTSD and other mental health issues as consequences of exposure to traumatic events. Includes all publications relevant to PTSD regardless of their disciplinary, linguistic or geographic origin. Coverage dates:

1871 to Current.

Contains full-text reports from over 300 active think tanks, research organizations, and advocacy groups about current research on virtually every public policy issue. Includes international coverage as well as in-depth coverage of U.S. domestic policy organizations. Coverage dates:

Current.

Search all Proquest databases: historical newspapers, other primary sources, dissertations, current periodicals, etc. from a single page. Documents can be limited to desired source(s) from the results list. Coverage dates:

15th century - present.

PsycBOOKS is the most current and only comprehensive collection of full-text APA-published scholarly and professional books. This extensive collection of current and classic peer-reviewed books provides a pathway through the evolution of psychological thought. Coverage dates:

1644 to present.

PsychiatryOnline contains institutional subscriptions from American Psychiatric Publishing. These include the DSM, The American Journal of Psychiatry, Psychiatric Services, Psychiatric News, and other psychiatric journals and textbooks. Coverage dates:

1844 to present.

Psychotherapy.net produces and distributes training DVDs in the field of psychotherapy. The videos show master psychotherapists in action in actual sessions, and they discuss their thoughts behind their interventions. Videos also capture the critical non-verbal aspects of therapy, including body language, facial expression, tone of voice, and the rhythm of the therapist-client interaction.
Focused on the interdisciplinary aspects of the worldwide behavioral and social science research and literature, PsycINFO contains citations and summaries of scholarly journal articles, book chapters, books, technical reports and dissertations, from international sources in psychology and related disciplines. Coverage dates:

1887 - Current.

This database is a full-text repository of psychological tests and measures, as well as a source of structured information about tests of relevance to psychologists and professionals in related fields. Each record includes data on the scope of the test, test implementation, a high-level overview of the test's development, and reliability and validity data. Coverage dates:

1910 to present.

Access full text and abstracts of journals in a wide range of subject areas including business, humanities, social sciences, and science, technology, and medicine. Coverage dates:

1999 - Current.

SAGE Research Methods is a research methods tool created to help researchers, faculty and students with their research projects. SAGE Research Methods links over 175,000 pages of SAGE's renowned book, journal and reference content with truly advanced search and discovery tools. Researchers can explore methods concepts to help them design research projects, understand particular methods or identify a new method, conduct their research, and write up their findings. Since SAGE Research Methods focuses on methodology rather than disciplines, it can be used across the social sciences, health sciences, and more. Coverage dates:

1970 - Current.

Sage Research Methods Cases is a collection of case studies of real social research that faculty can use in their teaching. Cases are original, specially commissioned, and designed to help students understand often abstract methodological concepts by introducing them to case studies of real research projects.
SAGE Research Methods Datasets is a collection of teaching datasets and instructional guides that give students a chance to learn data analysis by practicing themselves. These datasets are indexed by method and data type. Through practicing analysis using real data from SAGE Research Methods Datasets, students can see how analytic decisions are made.
SAGE Research Methods Video contains more than 125 hours of video, including tutorials, case study videos, expert interviews, and more, covering the entire research methods and statistics curriculum. The videos can help to bring methods to life: instead of reading about how to conduct a focus group, students can watch one in action. Through these videos, 60% of which are exclusive to SAGE, students can find extra help and support to guide them through every step of their research project and succeed in their research methods course.
ScienceDirect provides access to hundreds of full-text journals published by Elsevier in a wide range of subject areas including science, engineering, technology, medicine and business. Coverage dates:

1995 - Current.

Slavery, Abolition and Social Justice contains both primary source documents and secondary sources for research and teaching; including an interactive map, scholarly essays, tutorials, a visual sources gallery, chronology and bibliography. Coverage dates:

1490-2007.

Provides bibliographic coverage of current research focused on social work, human services, and related areas, including social welfare, social policy, and community development. The database abstracts and indexes over 1,300+ serials publications and includes abstracts of journal articles and dissertations, and citations to book reviews. Coverage dates:

1979 - Current.

Multi-media with client demonstration and documentary videos. Includes text content relevant to practitioners.
An evidence-based resource for social workers and mental healthcare professionals. Includes care sheets, patient information and images usable in all clinical settings - including hospitals, elder-care centers, and mental healthcare facilities. Content includes adolescent health, aging, end-of-life care, clinical social work, and diversity and equality. Coverage dates:

Current.

Indexes international scholarly literature in sociology and includes companion file Social Services Abstracts. Coverage dates:

1952 - Current.

Multidisciplinary statistics database containing 1.5 million statistics, facts and market data with coverage on more than 80,000 topics. Includes industry, company and consumer information, with about 50% of the data from U.S. sources. The remaining information is global, with rich data for Africa, Asia, Europe, and the Americas. Statistics can be exported in multiple formats for re-use or additional analysis. Coverage dates:

2008 - present.

Web of Science searches thousands of journals in the sciences, social sciences, and arts and humanities. A unique feature of Web of Science is the ability to see which articles have cited a given article. Web of Science offers the ability to search many databases simultaneously, including Science Citation Index, Social Sciences Citation Index, Arts & Humanities Citation Index, and several others. Coverage dates:

1945 - Current.

Wiley Online Library is a multi-disciplinary database that provides access to millions of articles from thousands of journals, thousands of books, and hundreds of multi-volume reference works. Coverage dates:

Varies.
Return to top