Databases by Subject/Topic: Dance
Icons:
Available to current TCU students, faculty, and staff.
Available to TCU faculty, staff, and grad students only.
Available to Brite students, faculty, and staff only.
Available to Clark Society members.
Available to all patrons.
Best Bets for Dance
IBTD is the definitive research tool for the study of theatre and dance, containing hundreds of full-text journals, books and monographs. Citations are available in a variety of styles and direct links to journal issues, articles, books and book chapters are furnished. Coverage dates:

1929 - Current.

Draws current content from more than 200 scholarly and popular performing arts periodicals, and also indexes a variety of documents such as biographical profiles, conference papers, obituaries, interviews, discographies, reviews and events. It covers a broad spectrum of the arts and entertainment industry.

Limited to 4 users at once.

Coverage dates:

1864 - Current.

Dance in Video highlights many forms and styles of dance through hundreds of performance, documentary, interview and instructional videos. Up-and-coming as well as leading companies and individuals are featured. Linking, embedding and playlists are possible. Transcripts are available for many videos. Coverage dates:

20th century.

Archive of historical context of dance through 125,000 pages of exclusive photographs, correspondence, magazines, dance notation, and reference materials. Coverage dates:

20th and 21st century.
Dance Research Librarian / Van Cliburn Archivist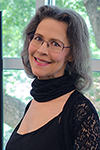 l.ruede@tcu.edu
817.257.7774
office: Music/Media Library (Map)

More databases for Dance
A massive multidisciplinary resource with an abundance of full text. Abstracts and indexes 10,000+ journals and includes the full text of 6,500+ journals. 9000+ of the journals are peer-reviewed. Coverage dates:

Varies.

The NYPL Dance Collection catalog contains descriptions of materials on all forms of dance, and serves as an index to international dance periodicals. To search Dance holdings, select Dance Research Collection. To read about the Dance collections or access online materials go to the Jerome Robbins Dance Division web page. Coverage dates:

1974 - Current.

Filmakers Library Online provides award-winning documentaries with relevance across the curriculum--race and gender studies, human rights, globalization and global studies, multiculturalism, international relations, criminal justice, the environment, bioethics, health, political science and current events, psychology, arts, literature, and more.
FoD is a growing repository of on-demand video for multiple subject disciplines. Content is from sources such as Films for the Humanities and Sciences, PBS, History Channel, National Geographic, TED and television networks such as BBC and CBC. Embedding or linking to videos is possible and transcripts are available.
Provides access to full-text of nursing and allied health journals, plus a wide variety of personal health information sources. Integrated collection of medical and professional periodicals, reference books, health magazines and hundreds of health-related multimedia. Coverage dates:

1980 - Current.

Large multi-label database of mostly classical music as well as jazz, film soundtrack, holiday and world genres. Includes instrumental and vocal music in solo and ensemble settings. Recordings supplemented by biographical information and links to reference resources (i.e. Grove Music Online). Users must complete a short registry to build playlists and embed external links.
Streaming audio database incorporating contemporary reggae, worldbeat, neo-traditional, world fusion, and other worldwide genres. Coverage dates:

contemporary.

Streaming audio database serving as a virtual encyclopedia of the world's musical and aural traditions.
Covers all aspects of theater production design, from the 17th century through to the present day, including, scenic and set design, lighting design, sound design, costume design, makeup, and more.
Search all Proquest databases: historical newspapers, other primary sources, dissertations, current periodicals, etc. from a single page. Documents can be limited to desired source(s) from the results list. Coverage dates:

15th century - present.

Contains all the records cataloged by OCLC member libraries. Millions of bibliographic records in 400 languages and different formats such as books, computer programs, films and slides, journals and magazines, articles, chapters and papers, manuscripts, maps, musical scores, newspapers, sound recordings and videotapes are included. Coverage dates:

Before 1000 BC - Current.
Return to top