Databases by Subject/Topic: Marketing & Advertising
Icons:
Available to current TCU students, faculty, and staff.
Available to TCU faculty, staff, and grad students only.
Available to Brite students, faculty, and staff only.
Available to Clark Society members.
Available to all patrons.
Best Bets for Marketing & Advertising
Provides market research reports for U.S. and European markets. Reports include consumer behavior, SWOT analysis, brand share analysis, advertising, trends, marketing strategies, and more. Also contains reports on specific groups and their consumer behavior. Coverage dates:

2001 - Current.

Provides Circulation data, Advertising Rates, Editorial Information, and ABC reports for Magazines and Newspapers. This database also provides Demographic Information in the form of key audience and product usage data. Users must create an account using your @tcu.edu email address.

Limited to 20 users at once.

Coverage dates:

1 year ago.

Provides data, contact information, and rates for advertising in magazines, newspapers, direct marketing, radio, TV & Cable, and websites. Also contains Claritas 360 which has demographics, lifestyle rankings, and market potential reports. Claritas 360 only runs on Google Chrome. Coverage dates:

Current.
Business Librarian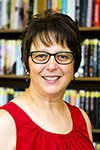 d.boerner@tcu.edu
817.257.5336
More databases for Marketing & Advertising
Shows how much a company/brand/product is spending on advertising. Advertising formats include Network TV, Cable TV, Syndication, Spot TV, Magazines, Newspapers, Radio, and Outdoor. Coverage dates:

2007 - Current.

Contains ad spending, agency rosters, and executive listings of the top marketers; holdings of the world's 50 largest agency companies, market analysis, histories of brands and advertising, and stats on current and historic industry employment. Coverage dates:

1996 to present.

Watch, listen and read through the catalog of television, web radio, and print ads, as well as individual case studies of high profile works. Ads are sourced from the 36 leading and most respected international award shows and over 20,000 agencies worldwide. Coverage dates:

1998 to present.

Full-text articles and abstracts for Business topics. Includes journals, magazines, trade publications, corporate profiles, statistical rankings, and more. Coverage dates:

1982 - Current.

Full-text articles and abstracts for Business topics. Company profiles, industry analysis, market research reports, country reports, and SWOT analysis are also available. Includes journals, magazines, trade publications, analyst reports, statistics, and more. Contains Harvard Business Review. Coverage dates:

1886 - Current.

Provides publishing information, statistics and acceptance rates for major journals in multiple disciplines. Replaces the Directories of Publishing Opportunities in Business, Computer Science, Education, Health/Nursing, Math/Science, and Psychology/Psychiatry. Check the Blacklist for predatory journals to avoid. Coverage dates:

Current.

Data-Planet offers access to over 3,800 indicators model-based indicators in 13 enormous datasets from Easy Analytic Software Inc. (EASI). Using input data from the Census Bureau, Bureau of Labor Statistics, and Mediamark, Data-Planet offer your users access to demographic characteristics, consumer spending, and behavior patterns for a wide range of geographic areas—State, counties, census tracts, and block groups. Coverage dates:

2012 to Current.

Data-Planet Statistical Datasets provides easy access to the largest repository of standardized and structured statistical data. The Data-Planet repository contains more than 25 billion data points from more than 70 source organizations. Coverage dates:

Current.

One-stop-shop for data on digital topics. Includes Ad Spending, Social Media, Industries, Demographics, B2B, and social media digital information and more. Coverage dates:

18 months ago - Current.

Full text articles and abstracts for the following topics: Management, Marketing, Accounting, Finance, Information Systems, Supply Chain, Economics, Education, Health Care, and Sociology. Coverage dates:

1989 - 2010.

Find statistics from poll questions that have been asked in the US since 1935. All of the major polling organizations in the US are included. Coverage dates:

1935 - Current.

MarketLine Advantage is an interactive platform that gives your students anytime access to a unique mix of company, industry, country and financial data for every major marketplace in the world.
Provides private and public U.S and international business data, industry news, facts and figures, executive contact information, the ability to access industry profiles and much more. Additionally, clients now have immediate access to contact information for over 250 million U.S. consumers. This enhanced search tool features specific information - name, address, previous address, age, number of household members and reverse phone number lookup capabilities Coverage dates:

Current.

Provides research reports, analyst reports, and articles for international company, industry, marketing, consumer, country, and economic information. Coverage dates:

Current.

Full text of 700K questions and responses from 18k+ public opinion surveys and 1700+ polling organizations. Polls for the U.S and more than 100 other countries. Data on all the pressing social issues of the day. Coverage dates:

1986 - present.

Contains Statistical data from government and international organizations. Includes statistics for popular topics such as human trafficking, identity theft, housing prices, and more. Coverage dates:

1973 - Current.

SAGE Research Methods is a research methods tool created to help researchers, faculty and students with their research projects. SAGE Research Methods links over 175,000 pages of SAGE's renowned book, journal and reference content with truly advanced search and discovery tools. Researchers can explore methods concepts to help them design research projects, understand particular methods or identify a new method, conduct their research, and write up their findings. Since SAGE Research Methods focuses on methodology rather than disciplines, it can be used across the social sciences, health sciences, and more. Coverage dates:

1970 - Current.

Sage Research Methods Cases is a collection of case studies of real social research that faculty can use in their teaching. Cases are original, specially commissioned, and designed to help students understand often abstract methodological concepts by introducing them to case studies of real research projects.
SAGE Research Methods Datasets is a collection of teaching datasets and instructional guides that give students a chance to learn data analysis by practicing themselves. These datasets are indexed by method and data type. Through practicing analysis using real data from SAGE Research Methods Datasets, students can see how analytic decisions are made.
A web-based mapping application that allows you to create exportable maps and reports using powerful demographic, business, and marketing data. Maps can be created at the zip code, city, or county level. You must create an account in order to save your work.

Limited to 1 user at a time.

Coverage dates:

Current.

Access articles, books, and videos for small business and entrepreneurial topics. Provides information on business basics, industry information by small business type, start-up kits and business plans, and more. Coverage dates:

1986-Current.

Multidisciplinary statistics database containing 1.5 million statistics, facts and market data with coverage on more than 80,000 topics. Includes industry, company and consumer information, with about 50% of the data from U.S. sources. The remaining information is global, with rich data for Africa, Asia, Europe, and the Americas. Statistics can be exported in multiple formats for re-use or additional analysis. Coverage dates:

2008 - present.

Tracks and forecasts number of weddings, spending, and consumer trends for the wedding industry. Coverage dates:

2008 to present.

Provides intelligence solutions for students, faculty, and staff in advertising, marketing, and mass communications. Contains advertising and marketing cases, industry news and profiles, and streaming video from advertising campaigns. Coverage dates:

1980 to present.

The leading online trend-analysis and research service providing creative and business intelligence for the apparel, style, design and retail industries. Note: The Worth Global Style Network (WGSN) merged with Stylesight trend forecasting portal on 8/4/2014. Users must create an account.

Limited to 150 users at once.

An archival research resource comprising the full backfiles of leading women's interest consumer magazines. Coverage dates:

1846 - 2005.

WWD.com offers online access to current issues of Women's Wear Daily.

Limited to 5 users at once.

Coverage dates:

1994 to present.
Return to top