Databases by Subject/Topic: General Research
Icons:
Available to current TCU students, faculty, and staff.
Available to TCU faculty, staff, and grad students only.
Available to Brite students, faculty, and staff only.
Available to Clark Society members.
Available to all patrons.
Best Bets for General Research
A massive multidisciplinary resource with an abundance of full text. Abstracts and indexes 10,000+ journals and includes the full text of 6,500+ journals. 9000+ of the journals are peer-reviewed. Coverage dates:

Varies.

Cross-disciplinary, scholarly electronic journal collection containing the full text of back issues of journals in many different subject areas. Also includes thousands of eBooks. Especially strong in Arts and Sciences. Coverage dates:

Varies.
Head of Reference & Instruction Services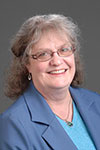 l.chenoweth@tcu.edu
817.257.5430
More databases for General Research
Includes items listed on the table of contents pages of 16,000 journals. Describes one article, news story, letter, or other item from a journal in each record. Provides a list of libraries that have the journal title for most items. Coverage dates:

1990 - Current.

Credo is an easy-to-use tool for starting research. Gather background information on your topic from hundreds of full-text encyclopedias, dictionaries, thesauri, quotations, and subject-specific titles, as well as 500,000+ images and audio files and over 1,000 videos. Coverage dates:

1966 - Current.

Current Contents Connect is a current awareness database that provides easy web access to complete tables of contents, abstracts, bibliographic information, and abstracts from the most recently published issues of leading scholarly journals, as well as from thousands of websites. Coverage dates:

1998 - Current.

Digital version of the Daily Express newspaper. Coverage dates:

1900 to present.

Data Citation Index searches high-quality research data from repositories across disciplines and around the world. The Data Citation Index aggregates the metadata from hundreds of repositories. Coverage dates:

1900 - Current.

The Directory of Open Access Journals contains the full text of thousands of quality-controlled scientific and scholarly journals.
EBSCOhost is a host/platform from which we receive a number of databases covering a wide range of subject areas. Many EBSCO databases contain full text. Use this link to search several databases at one time. Some examples of database options include Academic Search Complete, Business Source Premier, CINAHL, Religion and Philosophy Collection, and more.
FirstSearch (Core Collection) is a platform/host for databases in several subject areas. The Core Collection is available without restriction for use by all TCU-affiliated patrons. These databases range in scope from the discipline specific (ERIC, Medline) to the largest electronic union catalog int he world (WorldCat).
Gale Databases is an aggregator of databases we receive. The databases cover a wide range of subject material, and some of the databases can be cross-searched.
Find contact information via these directories: Directories in Print, Encyclopedia of Business Information Sources, Gale Directory of Databases, and National Faculty Directory. Also contains Gale Directory of Publications and Broadcast Media which provides information on media sources. Market Share Reporter is also included and contains statistics on market shares of various products/companies. Coverage dates:

2010 - Current.

Fully searchable PDF image-based government documents and legal research materials. Coverage from inception of both U.S. statutory materials and 2,300+ scholarly journals, all of the world's constitutions, all U.S. treaties, collections of classic treatises and presidential documents, and the full text of state and federal case law. Coverage dates:

Late 18th century to present.

Ingenta is a searchable database of millions of journal articles. Ingenta is used primarily for its document delivery features. Authorized TCU faculty and graduate students can use Ingenta to get the full text of documents delivered in PDF format. Email reference@tcu.edu for more information on using Ingenta for document delivery. Coverage dates:

1989 - Current.

The Joanna Briggs Institute (JBI) is widely regarded as one of the world's leading providers of evidence–based information. This database provides exclusive access to the following JBI resources: Systematic Reviews, Evidence Summaries, Best Practice Information Sheets, and more. Coverage dates:

1948 - Current.

Interactive platform that contains practice tests for standardized and placement tests at every grade level. Also contains tutorials to help improve basic math, reading, writing, and computer skills for every age. Assessment tests and career placement help are also available. SAT, ACT, GMAT, GRE, LSAT, and MCAT are just some of the test preps available. Coverage dates:

Current.

Online full text for many of the top consumer legal reference books, plus thousands of forms from Texas and other states to assist the general public in legal matters of all kinds. Coverage dates:

2000 to Current.

Multidisciplinary resource including full text for more than 2,300 general publications. Also included are more than 870 full text reference books, more than 73,000 full-text primary source documents and an image collection of more than 1.6 million photos, maps and flags. Coverage dates:

1922-present.

Access news videos about historical and current events on a variety of topics. Coverage dates:

1950 - Current.

Prominent newspaper from the U.S. Coverage dates:

June 1980 - present.

Provides news articles for financial, medical, and legal information. Transcripts and wire services are also available. Other special features include: Company Profiles, SEC filings, Biographies, Country Information, Federal and State Cases, Patents, Broadcast Transcripts, and more. Replaces LexisNexis Academic. Saving documents and searches, and annotating documents are a few of the additional features after registering for a personal account.
OAIster searches millions of digital resources from over 1000 organizations. Digital resources in OAIster include digitized books and articles, born-digital texts, multimedia files, images, and datasets. Coverage dates:

Ancient - modern.

OCLC Electronic Collections Online is a multidisciplinary collection of thousands of journals published in electronic form. Many journals are available in full text. Coverage dates:

1995 - Current.

Provides access to the full text of articles from approximately 3,400 publications, many of them peer-reviewed. Core subjects include art, education, humanities, law, social sciences and technology. Some graphical content, podcasts, foreign language article translations and article read-alouds. Coverage dates:

1994 - Current.

Contains the complete text of the 20-volume Second Edition of the Oxford English Dictionary, first published in 1989, together with its 3-volume Additions Series, published in 1993 (volumes 1 and 2) and 1997 (volume 3). It also contains the New Edition in progress, which is updated quarterly with hundreds of new entries.
Contains subject modules for Philosophy, Religion, Economics and Finance, and Political Science - and offers over 1200 complete and fully searchable books, with 200 titles added each year. TCU has purchased access to the full text of the Philosophy and Religion modules ONLY. For the other modules, users can view book and chapter abstracts.

Limited to 5 users at once.

PapersFirst searches papers presented at conferences, expositions, workshops, congresses, and symposia received by The British Library Document Supply Centre. Coverage dates:

1993 - Current.

Full text of 700K questions and responses from 18k+ public opinion surveys and 1700+ polling organizations. Polls for the U.S and more than 100 other countries. Data on all the pressing social issues of the day. Coverage dates:

1986 - present.

Proceedings is an index of worldwide conference proceedings and is updated bi-weekly. Coverage dates:

1993 - Current.

Provides full-text to over 300 high quality humanities, arts, and social sciences journals from 60 scholarly publishers. Every journal is peer-reviewed. Coverage dates:

Varies.

Search all Proquest databases: historical newspapers, other primary sources, dissertations, current periodicals, etc. from a single page. Documents can be limited to desired source(s) from the results list. Coverage dates:

15th century - present.

Electronic version of an essential print reference, provides indexing for millions of articles in over 500 leading magazines. Includes peer-reviewed and consumer publications. Key finding tool for many 20th century publications where indexing did not begin until the 1980s. Coverage dates:

1890-1982.

Grad Student/Faculty/Staff only. RightFind (Infotrieve) is a document delivery service for TCU faculty, staff, & graduate students. Email reference@tcu.edu for more information on using RightFind for document delivery. Firefox users: You may encounter a warning that says "This Connection is Untrusted." Just click "Add Exception" and then "Confirm Security Exception" to continue. Coverage dates:

Varies.

RBP is the World's only comprehensive online archive of music journalism and writing, providing access to an ever-expanding collection of primary-source, full-text music writing (currently over 32,000 articles), sourced from the pages of the music and mainstream press. Not just a resource for music courses, but also journalism, literature, national and international cultural studies, gender studies, sociology, politics and economics. RBP contains articles (reviews, interviews, features and more) from the '50s up to present day and includes a growing collection of exclusive audio interviews. The content represents the work of over 670 of the best music writers on the planet from over 4,500 publications (Rolling Stone, NME etc etc), representing over 2,500 artists from all genres of music. Coverage dates:

1950 to present.

Access full text and abstracts of journals in a wide range of subject areas including business, humanities, social sciences, and science, technology, and medicine. Coverage dates:

1999 - Current.

ScienceDirect provides access to hundreds of full-text journals published by Elsevier in a wide range of subject areas including science, engineering, technology, medicine and business. Coverage dates:

1995 - Current.

Creates fast, intuitive, and appealing maps and reports to help users visually analyze and understand demography and social change throughout history. An invaluable repository of information, the site currently includes the entire US Census history from 1790 to 2000, all annual updates from the American Community Survey, and the Religious Congregations and Membership Study from 1980 to 2000. Users can customize, save, print, and email maps and reports and export them to a variety of programs and statistical packages for further analysis and use in reports and presentations. Coverage dates:

1790 - present.

A multidisciplinary index to the journal literature of social sciences; full bibliographic and cited reference data. Disciplines include: communication, education, geography, history of social sciences, law, political science, public health, social issues, sociology. Coverage dates:

1956 - Current.

SpringerLink contains the full text of journals, eBooks, and conference proceedings published by Springer. Coverage dates:

1996 - Current.

Multidisciplinary statistics database containing 1.5 million statistics, facts and market data with coverage on more than 80,000 topics. Includes industry, company and consumer information, with about 50% of the data from U.S. sources. The remaining information is global, with rich data for Africa, Asia, Europe, and the Americas. Statistics can be exported in multiple formats for re-use or additional analysis. Coverage dates:

2008 - present.

Provides research by topic for current events. Coverage dates:

Current.

Ulrich's Global Serials Directory provides detailed, comprehensive, and authoritative information on serials published throughout the world. Coverage dates:

Current.

Provides access to the five most respected US national and regional newspapers, including The New York Times and Washington Post, co-exclusive access to The Wall Street Journal, and exclusive access to Los Angeles Times and Chicago Tribune. The content is available by 8am each day. Images are not included. Coverage dates:

1985 - Current day.

Web of Science searches thousands of journals in the sciences, social sciences, and arts and humanities. A unique feature of Web of Science is the ability to see which articles have cited a given article. Web of Science offers the ability to search many databases simultaneously, including Science Citation Index, Social Sciences Citation Index, Arts & Humanities Citation Index, and several others. Coverage dates:

1945 - Current.

Wiley Online Library is a multi-disciplinary database that provides access to millions of articles from thousands of journals, thousands of books, and hundreds of multi-volume reference works. Coverage dates:

Varies.

Contains all the records cataloged by OCLC member libraries. Millions of bibliographic records in 400 languages and different formats such as books, computer programs, films and slides, journals and magazines, articles, chapters and papers, manuscripts, maps, musical scores, newspapers, sound recordings and videotapes are included. Coverage dates:

Before 1000 BC - Current.
Return to top