Databases by Subject/Topic: Communication Sciences & Disorders
Icons:
Available to current TCU students, faculty, and staff.
Available to TCU faculty, staff, and grad students only.
Available to Brite students, faculty, and staff only.
Available to Clark Society members.
Available to all patrons.
Best Bets for Communication Sciences & Disorders
Offers the latest findings and trends in communications disorders research; an indexing and abstracting database with focus on speech-language pathology and audiology. Includes journal articles, books, dissertations, grants and quality websites. Subject areas include augmentative and alternative communication, communication mechanism and systems, electroneuronography, pediatric audiology and many more.
Web of Science searches thousands of journals in the sciences, social sciences, and arts and humanities. A unique feature of Web of Science is the ability to see which articles have cited a given article. Web of Science offers the ability to search many databases simultaneously, including Science Citation Index, Social Sciences Citation Index, Arts & Humanities Citation Index, and several others. Coverage dates:

1945 - Current.
Health Sciences Liaison & Assessment Librarian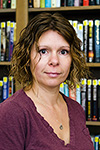 b.huddleston@tcu.edu
817.257.6063
More databases for Communication Sciences & Disorders
A massive multidisciplinary resource with an abundance of full text. Abstracts and indexes 10,000+ journals and includes the full text of 6,500+ journals. 9000+ of the journals are peer-reviewed. Coverage dates:

Varies.

Based on the McGraw Hill Encyclopedia of Science and Technology. It includes articles, definitions, images, biographies, and some multimedia. Coverage dates:

Current.

The online AMA Manual of Style has a streamlined interface, intuitive search and browse, and personalization features, so finding what you need in the Manual is easier than ever. Coverage dates:

Current.

Includes more than 153,000 theses and dissertations in total, including 70,000 new citations for theses and dissertations. The new citations include a link to access the full text, when available, via the Institutional Repository where the thesis or dissertation is housed. Coverage dates:

1902 to present.

CINAHL Complete is the world's most comprehensive source of full-text for nursing & allied health journals, providing full text for thousands of journals. CINAHL provides research materials including health care books, select conference proceedings, evidence-based care sheet and quick lesson disease overviews. Coverage dates:

1937 - Current.

ClinicalKey gives access to all of Elsevier's current medical and surgical content, including First Consult. ClinicalKey's content includes thousands of textbooks and top medical journals, providing the most current clinically relevant evidence-based answers, as well as expert commentary, MEDLINE abstracts and select third-party journals. Coverage dates:

Current.

Cochrane Clinical Answers (CCAs) provides a readable, digestible, clinically focused entry point to rigorous research from Cochrane systematic reviews. Designed to be actionable and to inform decision making at the point of care, each Cochrane Clinical Answer contains a clinical question, a short answer, and an opportunity to "drill down" to the evidence from relevant Cochrane reviews. The evidence is displayed in a user friendly format, mixing narrative, numbers and graphics. Coverage dates:

Varies.

Peer-reviewed journal articles for Communication Studies. Coverage dates:

1920s to Current.

DynaMed is a clinical information resource used by physicians to answer clinical questions quickly and easily at the point of care. It includes thousands of topics that provide clinicians and educators with the evidence-based information they need to make informed decisions. Topics are updated daily as new evidence becomes available. Coverage dates:

Current.

EMBASE is a Major International Biomedical and Pharmaceutical database that contains over 19 million indexed records from 1974 to date, and has an overlap of titles with MEDLINE; EMBASE has been referred to as the European MEDLINE.  The database offers its own life science thesaurus called EMTREE.  Coverage dates:

1947 - Current.

This resource provides contextual information on hundreds of today's most significant science topics. By integrating authoritative, curriculum-aligned reference content with headlines and videos, it draws students into the subject matter, showing how scientific disciplines relate to real-world issues, from weather patterns to obesity. Coverage dates:

Current.

Global Health is the only specialized bibliographic, abstracting and indexing database dedicated to public health. The database covers all aspects of public health at both international and community levels, as well as a wealth of material from other biomedical and life science fields.

Limited to 3 users at once.

Coverage dates:

Current.

Provides access to full-text of nursing and allied health journals, plus a wide variety of personal health information sources. Integrated collection of medical and professional periodicals, reference books, health magazines and hundreds of health-related multimedia. Coverage dates:

1980 - Current.

This database provides nearly 330 scholarly full text journals and 260 peer-reviewed, full-text journals, focusing on many medical disciplines. Health Source: Nursing/Academic Edition also features the AHFS Consumer Medication Information, which covers 1,300 generic drug patient education sheets with more than 4,700 brand names. Coverage dates:

1963 - Current.

MEDLINE Complete provides authoritative medical information on medicine, nursing, dentistry, veterinary medicine, the health care system, pre-clinical sciences, and much more. MEDLINE Complete searches citations from over 5,600 current biomedical journals and full text for over 2,000 journals indexed in MEDLINE. Of those, more than 1,980 have cover-to-cover indexing in MEDLINE. Coverage dates:

1865 to present.

Offers full-text access to journals Seminars in Hearing and Seminars in Speech and Language; 45 premier audiology and speech-language pathology e-books; over 160 clinical cases with review questions and answers; and 5,000+ images with legends and 100 videos. Coverage dates:

2000 - present, Varies by media.

Nature Journals contains unlimited access to all journals on the Nature platform, including its flagship journal Nature and the Scientific American magazine. Coverage dates:

1845-present.

Search all Proquest databases: historical newspapers, other primary sources, dissertations, current periodicals, etc. from a single page. Documents can be limited to desired source(s) from the results list. Coverage dates:

15th century - present.

PsycBOOKS is the most current and only comprehensive collection of full-text APA-published scholarly and professional books. This extensive collection of current and classic peer-reviewed books provides a pathway through the evolution of psychological thought. Coverage dates:

1644 to present.

PsychiatryOnline contains institutional subscriptions from American Psychiatric Publishing. These include the DSM, The American Journal of Psychiatry, Psychiatric Services, Psychiatric News, and other psychiatric journals and textbooks. Coverage dates:

1844 to present.

Focused on the interdisciplinary aspects of the worldwide behavioral and social science research and literature, PsycINFO contains citations and summaries of scholarly journal articles, book chapters, books, technical reports and dissertations, from international sources in psychology and related disciplines. Coverage dates:

1887 - Current.

ScienceDirect provides access to hundreds of full-text journals published by Elsevier in a wide range of subject areas including science, engineering, technology, medicine and business. Coverage dates:

1995 - Current.

Includes the Natural Science Collection and the Technology Collection and provides full-text titles from around the world, including scholarly journals, trade and industry journals, magazines, technical reports, conference proceedings, government publications, and more. Coverage dates:

1946 - Current.

An evidence-based resource for social workers and mental healthcare professionals. Includes care sheets, patient information and images usable in all clinical settings - including hospitals, elder-care centers, and mental healthcare facilities. Content includes adolescent health, aging, end-of-life care, clinical social work, and diversity and equality. Coverage dates:

Current.

Provides access to the five most respected US national and regional newspapers, including The New York Times and Washington Post, co-exclusive access to The Wall Street Journal, and exclusive access to Los Angeles Times and Chicago Tribune. The content is available by 8am each day. Images are not included. Coverage dates:

1985 - Current day.

Wiley Online Library is a multi-disciplinary database that provides access to millions of articles from thousands of journals, thousands of books, and hundreds of multi-volume reference works. Coverage dates:

Varies.
Return to top