Databases by Subject/Topic: Art History
Icons:
Available to current TCU students, faculty, and staff.
Available to TCU faculty, staff, and grad students only.
Available to Brite students, faculty, and staff only.
Available to Clark Society members.
Available to all patrons.
Best Bets for Art History
A broad range of related subjects from fine, decorative and commercial art, to various areas of architecture and architectural design. This resource searches the content of these well known art resources: Art Index Retrospective, Art Index and Art Abstracts. Coverage dates:

1937-present.

Cross-disciplinary, scholarly electronic journal collection containing the full text of back issues of journals in many different subject areas. Also includes thousands of eBooks. Especially strong in Arts and Sciences. Coverage dates:

Varies.

Online full text of The Dictionary of Art, The Oxford Companion to Western Art and Benezit Dictionary of Artists. It is a reference and biographical resource for all aspect of worldwide visual arts from prehistory to the 1990s. Many articles have been updated since the original publication.

Limited to 3 users at once.

Coverage dates:

Current.
Art & Design Librarian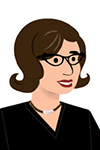 l.steinbach@tcu.edu
817.257.7311
More databases for Art History
Digitized images of the pages of American magazines and journals documenting the life of America's people from the Colonial Era through the Civil War and Reconstruction. Coverage dates:

1691 - 1877.

A keyword searchable archive of photos, graphics, text, and audio from the Associated Press. Coverage dates:

1840 - Current.

A primary source collection that spans the spectrum of arts and the history of architecture, from fine and applied arts, through to interior and industrial design, landscape gardening, and restoration. Coverage dates:

1854-2005.

Provides abstracts of journal articles, exhibition catalogs, museum bulletins, books, and dissertations that focus on modern and contemporary art, artists, art movements, trends, and art history and theory. The late 19th century to the present is covered. Coverage dates:

1973 - Current.

Covers of a broad range of time and place, with entries from 3000 B.C. to the present day, and art from the cultures of Africa, Asia, Europe, and the Americas, including Native American and Meso-American peoples. The images in this collection offer a wealth of art information to enrich leaning in cultural studies, area studies, women's studies, archaeology, history, religion, social studies, literature and more. Coverage dates:

3000 BC to present.

Consists of nearly 3,000 texts of French literature, ranging from classic works to non-fiction. The 18th to the 20th are represented, with a selection of 17th century texts as well as some medieval and Renaissance texts. The corpus is updated as new high-quality digital texts become available. Coverage dates:

17th-20th centuries.

An index to the journal literature of the arts and humanities. It covers 1,160 of the world's leading arts and humanities journals. It also indexes individually selected, relevant items from over 6,800 major science and social science journals. Coverage dates:

1981 - Current.

Consists of three databases: Design Abstracts Retrospective, ReVIEW, and Arts+Architecture ProFiles. Design Abstracts Retrospective (DAR) is a new ongoing abstracting and indexing service that aims to cover full contents of 70 of the most important design and applied arts journals published during the 20th century. Coverage dates:

1893 - 1986.

More than one million images from outstanding museums, photographers, libraries, scholars, photo archives, and artists and artists' estates from all over the world. Subject areas include art, architecture, music, religion, anthropology, literature, world history, American Studies, Asian Studies, Classical Studies, Medieval Studies, Renaissance Studies, and more.
A comprehensive listing of journal articles on architecture and design, including bibliographic descriptions on subjects such as the history and practice of architecture, landscape architecture, city planning, historic preservation, and interior design and decoration. An excellent source of biographical and professional information about architects Coverage dates:

1934 - Current, with selective coverage from 1741.

Provides integrated text and image content on world dress and fashion throughout history. Useful to scholars, students, professionals, and anyone interested in dress, it includes the Encyclopedia of World Dress and Fashion, an extensive E-Book collection, a vast image bank, extra reference resources and more. Coverage dates:

From early times to present day.

A merger of two well-known art databases: Bibliography of the History of Art (BHA) and International Repertory of the Literature of Art/ Répertoire de la litterature de l'art (RILA). These citation databases, searchable together, cover material published between 1975 and 2007. For material published after 2007 see the International Bibliography of Art (IBA). Coverage dates:

1975 - 2007.

Comprehensive global coverage of the history, theory and practice of crafts and design. Coverage dates:

Prehistoric times to the present.

Contains citations and abstracts from over 500 design and craft journals and newspapers. Research articles, news items, conference and seminar reports, book, video and exhibition reviews are covered. Both new designers and the development of design and applied arts are covered. Coverage dates:

1973 - Current.

This catalog allows you to search the library collections of the Amon Carter Museum, Kimbell Art Museum, Modern Art Museum of Fort Worth and the National Cowgirl Museum and Hall of Fame.
Presents citations from prominent art history periodicals indexed by the Frick Art Reference Library (FARL) from 1850-1969. Coverage dates:

1850-1969.

An online cross-cultural database containing information on world's prehistory. The annually-growing eHRAF database is organized by archaeological traditions and the documents are subject-indexed at the paragraph level. eHRAF Archaeology is a unique resource designed to facilitate comparative archaeological studies. Coverage dates:

Mostly prehistory.

Indexes and abstracts over 2000 titles in the humanities from articles, essays and reviews, as well as original creative works including poems, fiction, photographs, paintings and illustrations. Coverage dates:

1925 - Current.

An immense visual archive of medieval art, describing and presenting iconographic subjects and images from early apostolic times to the early modern era. Coverage dates:

Early apostolic times to approximately 1400 AD.

Includes over 26,000 records from 42 art journals published in the United States during the 19th century. The entire contents of each issue are indexed in the database. It offers essential information on artists and illustrators, painting, sculpture, drawing, photography, architecture, design, decoration, exhibitions, sales, and collecting. Coverage dates:

19th Century.

A definitive resource for scholarly literature on western art. It succeeds the Bibliography of the History of Art, recognized as the world's most comprehensive bibliography of scholarly writing about the history of western art. Coverage dates:

2008 - Current.

Online version of the Official Museum Directory. Includes all types of museums within the United States.

Limited to 1 user at a time.

Coverage dates:

Current.

Offers exclusive, authoritative research guides. Combining the best features of an annotated bibliography and a high-level encyclopedia, this cutting-edge resource guides researchers to the best available scholarship across a wide variety of subjects. Coverage dates:

Varies.

Electronic version of an essential print reference, provides indexing for millions of articles in over 500 leading magazines. Includes peer-reviewed and consumer publications. Key finding tool for many 20th century publications where indexing did not begin until the 1980s. Coverage dates:

1890-1982.

The largest and most comprehensive resource on Modernism. Coverage dates:

1890-1945.

First ever scholarly, primary source database focusing on adult comic books and graphic novels. Beginning with the first underground comix from the 1960s to the works of modern sequential artists, this collection will contain more than 75,000 pages of comics and graphic novels, along with 25,000 pages of interviews, criticism, and journal articles that document the continual growth and evolution of this art form. Coverage dates:

1960s to present.
Return to top