Databases by Subject/Topic: Interior Design
Icons:
Available to current TCU students, faculty, and staff.
Available to TCU faculty, staff, and grad students only.
Available to Brite students, faculty, and staff only.
Available to Clark Society members.
Available to all patrons.
Best Bets for Interior Design
A broad range of related subjects from fine, decorative and commercial art, to various areas of architecture and architectural design. This resource searches the content of these well known art resources: Art Index Retrospective, Art Index and Art Abstracts. Coverage dates:

1937-present.

A comprehensive listing of journal articles on architecture and design, including bibliographic descriptions on subjects such as the history and practice of architecture, landscape architecture, city planning, historic preservation, and interior design and decoration. An excellent source of biographical and professional information about architects Coverage dates:

1934 - Current, with selective coverage from 1741.

Full-text articles and abstracts for Business topics. Company profiles, industry analysis, market research reports, country reports, and SWOT analysis are also available. Includes journals, magazines, trade publications, analyst reports, statistics, and more. Contains Harvard Business Review. Coverage dates:

1886 - Current.
Art & Design Librarian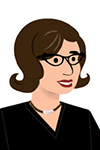 l.steinbach@tcu.edu
817.257.7311
More databases for Interior Design
A massive multidisciplinary resource with an abundance of full text. Abstracts and indexes 10,000+ journals and includes the full text of 6,500+ journals. 9000+ of the journals are peer-reviewed. Coverage dates:

Varies.

More than one million images from outstanding museums, photographers, libraries, scholars, photo archives, and artists and artists' estates from all over the world. Subject areas include art, architecture, music, religion, anthropology, literature, world history, American Studies, Asian Studies, Classical Studies, Medieval Studies, Renaissance Studies, and more.
Comprehensive global coverage of the history, theory and practice of crafts and design. Coverage dates:

Prehistoric times to the present.

Contains citations and abstracts from over 500 design and craft journals and newspapers. Research articles, news items, conference and seminar reports, book, video and exhibition reviews are covered. Both new designers and the development of design and applied arts are covered. Coverage dates:

1973 - Current.

Full-text content from leading home improvement magazines, images not found anywhere else online, and videos of popular home repair projects. Coverage dates:

1991-Current.

Provides in-depth Domestic and Global Industry analysis. Also includes Risk Ratings reports and US Business Environment Profiles. iExpert Summaries provide brief overviews of industries and are designed for job interviews. Coverage dates:

Current.

Cross-disciplinary, scholarly electronic journal collection containing the full text of back issues of journals in many different subject areas. Also includes thousands of eBooks. Especially strong in Arts and Sciences. Coverage dates:

Varies.

Houses over 7,000 advanced, sustainable and innovative materials representing eight categories: polymers, naturals, metals, glass, ceramics, carbon-based materials, cement-based materials, and processes. Coverage dates:

Current.

Provides market research reports for U.S. and European markets. Reports include consumer behavior, SWOT analysis, brand share analysis, advertising, trends, marketing strategies, and more. Also contains reports on specific groups and their consumer behavior. Coverage dates:

2001 - Current.

Provides access to the full text of articles from approximately 3,400 publications, many of them peer-reviewed. Core subjects include art, education, humanities, law, social sciences and technology. Some graphical content, podcasts, foreign language article translations and article read-alouds. Coverage dates:

1994 - Current.

Online full text of The Dictionary of Art, The Oxford Companion to Western Art and Benezit Dictionary of Artists. It is a reference and biographical resource for all aspect of worldwide visual arts from prehistory to the 1990s. Many articles have been updated since the original publication.

Limited to 3 users at once.

Coverage dates:

Current.

Electronic version of an essential print reference, provides indexing for millions of articles in over 500 leading magazines. Includes peer-reviewed and consumer publications. Key finding tool for many 20th century publications where indexing did not begin until the 1980s. Coverage dates:

1890-1982.

The largest and most comprehensive resource on Modernism. Coverage dates:

1890-1945.
Return to top